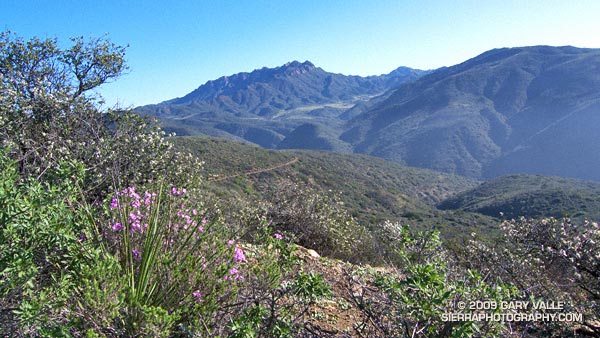 The idea was to do an interesting trail run that wasn't quite as long and strenuous as last week's Bandit 30K Course Preview. That was the idea. I could have calculated the mileage and elevation gain of our projected route, but sometimes part of the fun of trail running is not knowing the exact route, how long it will take, or how strenuous it might be.
This particular exploration would visit two of the most scenic areas in the Santa Monica Mountains — Serrano Valley and La Jolla Valley. Many variations of this loop are possible. Our base route included the Ray Miller/Backbone Trail, Fireline Trail, Serrano Canyon Trail, Serrano Valley Trail, Old Boney Trail, Wood Canyon Vista Trail, La Jolla Valley Loop Trail, La Jolla Canyon Trail and connecting roads.
In addition to its wonderful scenery, this course is characterized by moderate uphills that are generally very runnable. The side trips to to the old ranch site in Serrano Valley, and to Mugu Peak pushed the route beyond the 30K mark, but were worth every step. Here's a Google Earth image and Google Earth KMZ file of a GPS trace of the route. Since none of us had done the eastern leg of the La Jolla Valley Loop Trail, this time we did Mugu Peak from the east. The route around the valley to the western side of Mugu Peak is also shown.
Here is a Live Browser View of the run.
Some related posts: Serrano Valley from Wendy Drive; La Jolla Valley & Mugu Peak from Wendy Drive; Laguna Peak, La Jolla Valley, and the Channel Islands