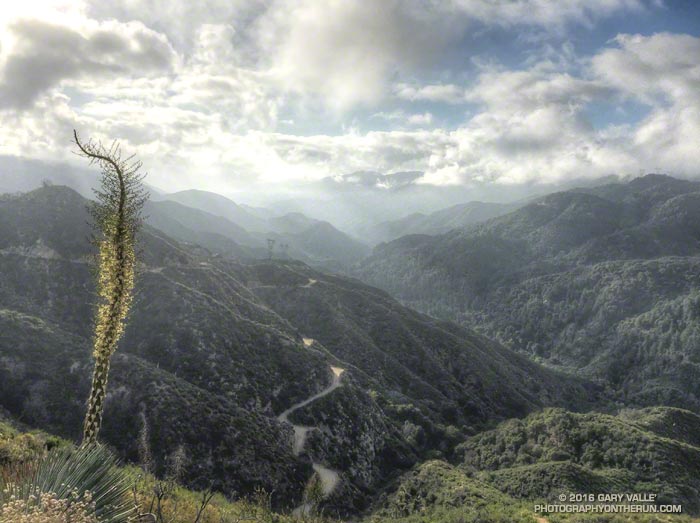 The "Shortcut 50K" is a 31 mile loop that starts and ends at Shortcut Saddle on Hwy 2. It's a good AC100 training run because it covers about 21 miles of the Angeles Crest 100 course, doesn't require a shuttle, and normally has water at key points along the way.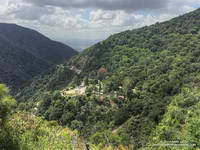 After following the AC100 course from Shortcut Saddle to the Mt. Wilson Toll Road via Chantry Flat, the 50K follows the Mt. Wilson Trail (including a short stretch of the Toll Road) to the top of Mt. Wilson. From the parking lot on Mt. Wilson a nondescript trail is normally used to connect to the Kenyon Devore Trail, which is followed down to West Fork. From West Fork the Silver Moccasin Trail is taken back up to Shortcut Saddle.
All the trails that make up the loop can be seen in Google Maps. There is usually water available at Chantry Flat and a spigot in the Mt. Wilson parking lot. There is also water running from a pipe at West Fork, just below the last switchback, on the right side of the trail. It's been used as a water source for years, but treat it to be sure. There are cafes at Chantry Flat and Mt. Wilson.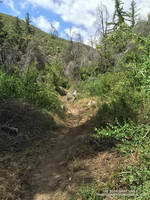 Last year the lower part of the Silver Moccasin Trail was a bushwhack, but thanks to Mt. Disappointment 50K/50M RD Gary Hilliard and crew, the trail has been restored.
On today's run some sections of the connector trail between the Mt. Wilson parking lot and the Kenyon Devore Trail were difficult to follow because of work to remove debris piles created during the Station Fire. Until the work is completed, it would probably be easier to follow Mt. Wilson Road a short distance down to the top of the Kenyon Devore Trail.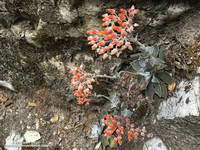 Descending the Kenyon Devore Trail today I was reminded just how quickly a fun run in the mountains can become something else. I was about halfway down the trail when I rounded a corner and saw a huge tree had fallen across the trail. I was at that point in a long run where I had no desire whatsoever to clamber over a tree.
I muttered out loud, "What the heck!" then was relieved to see the big tree could be easily bypassed on the left. As I rounded the tree, there was a sudden commotion, accompanied by the sound of breaking branches and the disconcerting sight of large bear disappearing into the bushes just a few feet away.
Apparently the bear had been walking up the trail and had not heard me running down the trail. Fortunately it did hear my exclamation, and that was just enough of warning to avoid a potentially serious confrontation.
Related post: Shortcut – Chantry – Mt. Wilson Loop