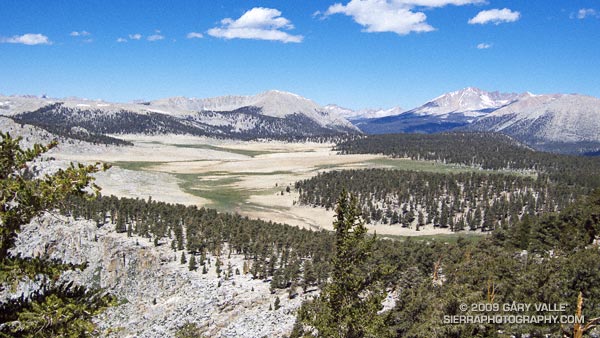 The photograph of Siberian Outpost and Mt. Kaweah was taken from the Pacific Crest Trail, north of Chicken Spring Lake, while running the 22 mile Cottonwood Pass – New Army Pass loop — an outstanding high mountain course that is nearly all above 10,000′.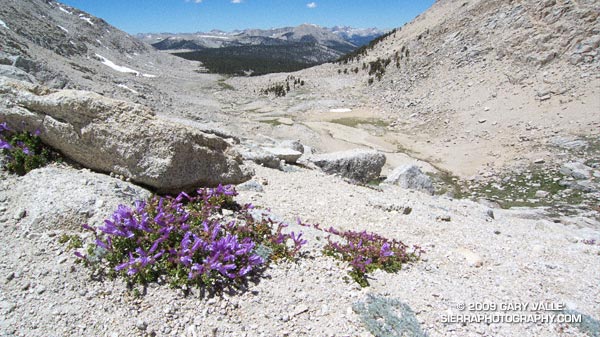 The large treeless area is Siberian Outpost. Reminiscent of an expanse of tundra, an exposed camp here would certainly have the windswept, isolated character of the north. The high peak on the right side of the photograph is Mt. Kaweah (13,802′). To the left is Mt. Anna Mills and to the right, Mt. Guyot. The peaks of the Great Western Divide can be seen in the distance. Hidden from view, between Mt. Guyot and Mt. Kaweah, is the Kern (River) Trench near Kern Hot Springs.
In my experience the loop is a MUCH better run when done in the clockwise direction. Something to keep in mind, particularly in a heavy snow year, is that you approach New Army Pass from the west, and don't get to see the snow situation on the steep, east side of New Army Pass until you get there — at about mile 13.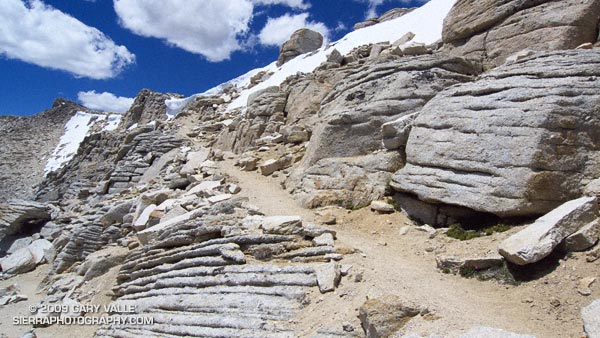 This wasn't a heavy snow year, but the weather this Spring was cool and there were some late season storms. So it wasn't a big surprise to find a steep patch of snow blocking the trail. With a light pack it was relatively straightforward to find a way around the snow, but earlier in the season, or in a heavier snow year, this might not be the case.
Additional info and photographs can be found in my posts Cottonwood – New Army Pass Loop and New Army Pass – Cottonwood Pass Loop. Here is a Cesium browser View of a GPS trace of the loop.