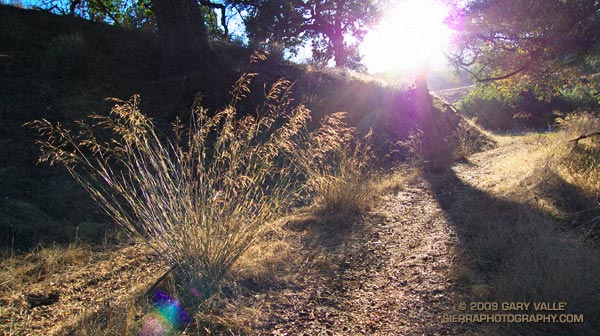 The first day of sun following rain on Tuesday and Wednesday. Ahmanson Ranch was not nearly as wet and muddy as I expected, and although water was pooled in Las Virgenes Creek, the stream was not running. Would have been a very different scenario had this storm occurred later in the rain season. Some rain totals for the Los Angeles area and comments about the developing El Nino are in my October Weathernotes.
The soft trail conditions were nearly ideal for barefoot running, and I took my running shoes off part way through the run. The muddy sections were great fun, and running barefoot was a enjoyable way to put a wrap on the rain event. I can't wait for it to rain again!
The grass backlit by the sun is smilo (Piptatherum miliaceum). Introduced into California over a century ago, smilo is a drought resistant grass that has been used for pasture, and for erosion control following fires.