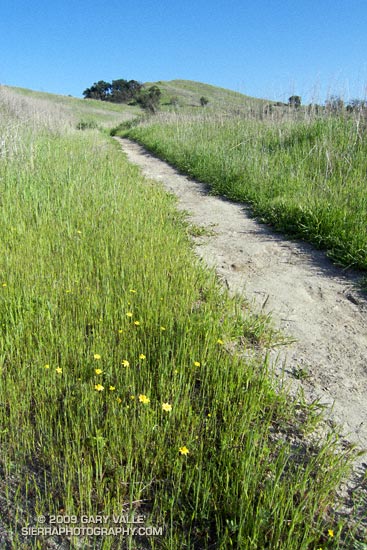 There are still a few rogue mud puddles out at Ahmanson ranch, but the Goldfields are blooming, the meadowlarks singing, and it feels like Spring!
Last week it looked like our rain season might not be over. Now I'm beginning to wonder. This week the GFS and ECMWF forecasts have been much drier in Southern California, with most of the activity focused on the Pacific Northwest. No significant rain is forecast here over the next week, and both the 6-10 and 8-14 day forecasts project below average precipitation in Southern California.
If these medium range forecasts are on the mark, March rainfall for Downtown Los Angeles (USC) will fall well below the 3.14 inch norm. Normal April rainfall is 0.83 inches, and May only 0.31 inches. Beyond March it becomes increasingly unlikely that a big rain event will significantly boost our rainfall total.
Since November 1, Downtown Los Angeles has recorded 8.80 inches of precipitation. This is about what would be expected during a La Nina, and within the range indicated in the composite precipitation map included in the post Southern California 2008-2009 Winter Precipitation Outlook, back in October.
In his March 6 post, Ed Berry suggested the possibility of "more energetic progressive troughs" in the western U.S in the week 2-3 timeframe. That wouldn't necessarily result in rain in Southern California, but might improve our chances. Numerical weather model performance generally suffers during seasonal transitions, so maybe there are still some surprises lurking in the Pacific. We'll see!