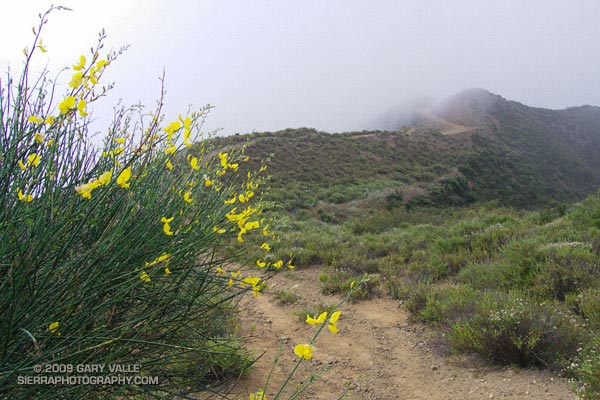 Saturday, I'd run in the Malibu Creek Challenge 22K. Today I Wanted to do something low key. Not too long, not too steep, but still a run that would work out the kinks that follow a race. I finally settled on the Secret Trail to Calabasas Peak, a 4.25 mile course with an elevation gain/loss of around 750 ft.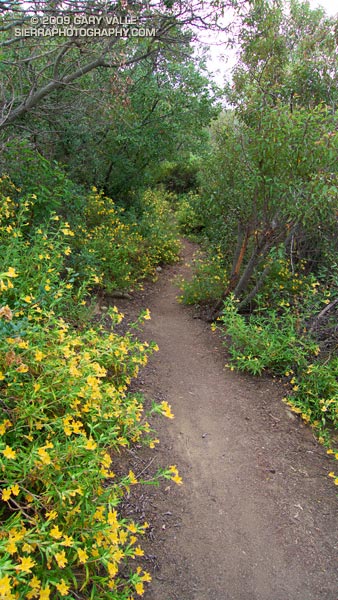 The low clouds and fog that surged into the Santa Monica Mountains on Saturday had returned during the night. The mustard and monkeyflower along the trail were soaked with dew, and now, so was I. Running felt good, and the two or so miles to the peak passed quickly.
The sun had nearly burned through the morning overcast, and just below the summit of Calabasas Peak, the bright yellow flowers of a Spanish broom seemed to capture and concentrate the subdued sunlight.
Spanish broom (Spartium junceum) is a twiggy, green shrub that originated in the Mediterranean. It is common at lower elevations of our local mountains. According to the California Invasive Plant Council it was introduced as an ornamental in San Francisco in 1848, and planted along highways in Southern California in the 1930s. Its color and fragrance are distinctive.
Prior to running the Inca Trail we did an acclimatization run at 11,000 ft on the altiplano near Chinchero. The very first flower I saw on the run was a Spanish broom! This suggests that Spanish broom could spread to higher elevations of the San Gabriel Mountains, particularly if climate change results in more arid conditions.
Some related posts: Peru Running, Secret Trail to Calabasas Peak, Tapia Bound