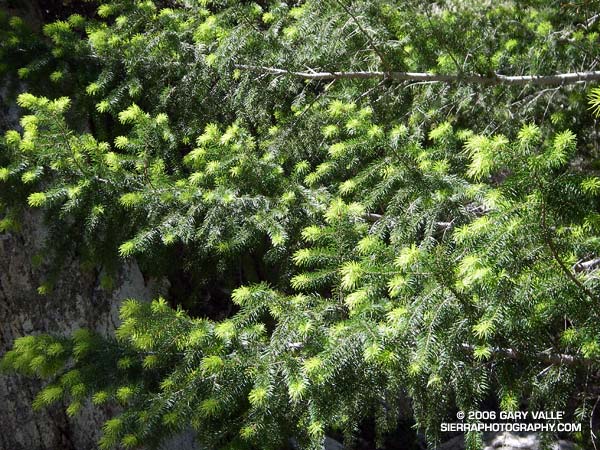 Bright green highlights new growth on a Big Cone Douglas Fir (Pseudotsuga macrocarpa) in the San Gabriel Mountains near Josephine Peak and Strawberry Peak.
These peaks are popular lower elevation summits, that can be snow-free in Winter, or a blast furnace in Summer. Josephine Peak (5558 ft.) was once the site of fire lookout, and a fire road leads from Clear Creek Station to its summit. From the west, via Clear Creek or Colby Canyon, Strawberry Peak (6164 ft.) is a more difficult ascent that requires careful route-finding and rudimentary rock climbing skills. Many hikers prefer to do Strawberry from the east, starting at Red Box.
The day this photograph was taken, I wasn't climbing Strawberry Peak, but instead was running a circuit around the peak. Part of the Angeles National Forest Trail Race course, the circuit is an excellent 15 mile loop with an elevation gain/loss of about 2700 ft. Here's a Google Earth image and Google Earth KMZ file of a GPS trace of the Strawberry Peak Circuit. A longer variant of this route is described in Fall Leaves on Bear Creek and Strawberry – Bear Canyon Loop.