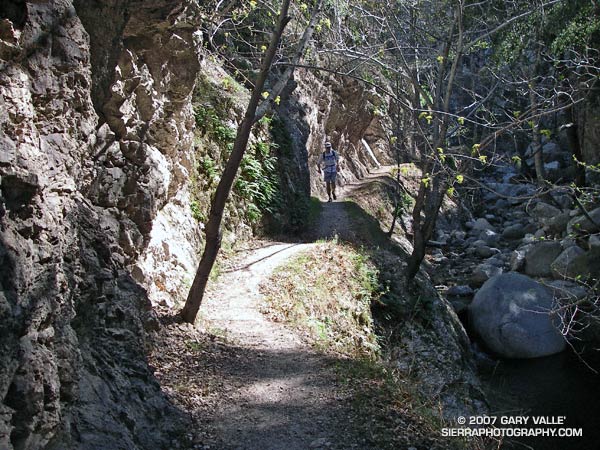 The Strawberry – Bear Canyon loop trail run is a longer, more adventurous variation of the run around Strawberry Peak described in the post Strawberry Peak Circuit.
The photograph Fall Leaves On Bear Creek was taken on this loop in November 2005. As described in that post, instead of descending directly to Switzer's from Red Box, this route descends the West Fork to Valley Forge Campground and then climbs up and over the shoulder of Mt. Wilson, and down into Bear Canyon, eventually working its way back to Switzer's and Clear Creek.
Without any wrong turns or other route finding issues the loop works out to about 25.5 miles with an elevation gain and loss of about 5500-6000 ft. The running (and hiking) is extremely varied, including fire roads, old road beds, easy trail, technical trail, and lots of up and down. Bear Creek's lush canyon is gorgeous, but 20 miles into the run, it's winding course and many creek crossings can prove demanding.
I attempted to obtain a GPS trace of this route in 2005, but the steep, narrow canyons defeated my Foretrex 201. Not so with my Forerunner 205. I continue to be amazed at the 205's performance. Here's a Google Earth image and Google Earth KMZ file of the GPS trace of my route.
Related posts: Spring Growth, Fall Leaves On Bear Creek, Forerunner 205.