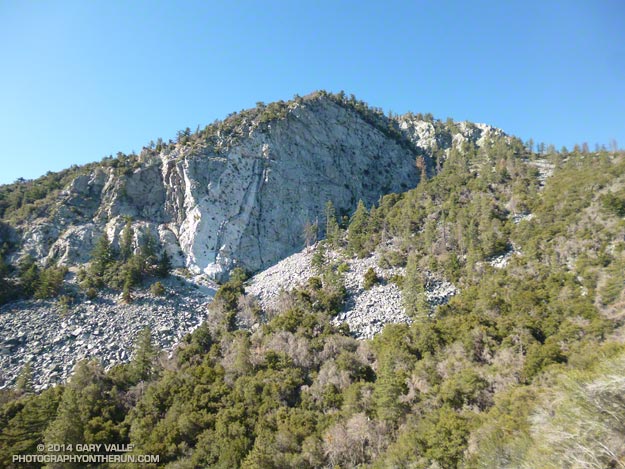 After being closed 4 1/2 years because of the 2009 Station Fire, Strawberry Peak and the trails comprising the Strawberry Peak loop reopened on May 25, 2014. Today, I finally got a chance to get back on the 15+ mile circuit around Strawberry, and was excited to find that much of it was in better shape than before fire.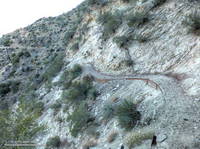 I'd heard that COBRA was instrumental in the restoration of the loop, but that is only part of the story. The preservation and maintenance of trails is now largely a community effort — in this case CORBA, Mount Wilson Bicycling Association, Sierra Club, Los Angeles Conservation Corps, National Forest Foundation, REI, Bellfree Contractors, and the BSA all contributed to the effort.
The loop, which is part of the ANFTR/Mt. Disappointment 50K course, circumnavigates Strawberry Peak. The trails that comprise the loop are Josephine Fire Road, Strawberry Spur Trail, Colby Canyon Trail, Strawberry Peak Trail, Gabrielino Trail, and Nature's Canteen Trail. The loop can be started at Red Box, Colby Canyo, Switzer's or Clear Creek. I usually start it at Clear Creek so I can refill my hydration pack from the water faucet at the Haramokngna American Indian Cultural Center at Red Box. (Note: Water might not be available here, especially in winter!)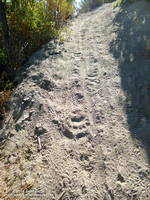 Some things to note. The Colby Canyon Trail and the use trail up Strawberry Peak are somewhat hidden from view when you first get to Josephine Saddle. The trails are on the east side of the saddle, and well used. The Gabrielino Trail between Red Box and Switzer's Picnic area is generally in good shape, but watch out for Poodle-dog bush. The start of Nature's Canteen Trail is not currently marked. It can be picked up near the top of the paved road that climbs up from Switzer's, near the telephone/power line poles. It starts on the west side of the road. Most of the trail was overgrown, but it looked like it was being restored, starting at its west end.
I was glad to see that most of the bigcone Douglas-fir on the north side of the peak survived the fire and that Strawberry Potrero was mostly intact. There was a nice set of bear tracks between Strawberry Potrero and the steep section of the Strawberry Peak Trail above the Colby Canyon Trail junction.
Here's an overview of the Strawberry Peak circuit and an interactive Cesium browser View of the route that can be zoomed, panned, tilted and rotated.
Some related posts: Strawberry Peak Traverse, Blue Skies and Short Sleeves on Strawberry Peak