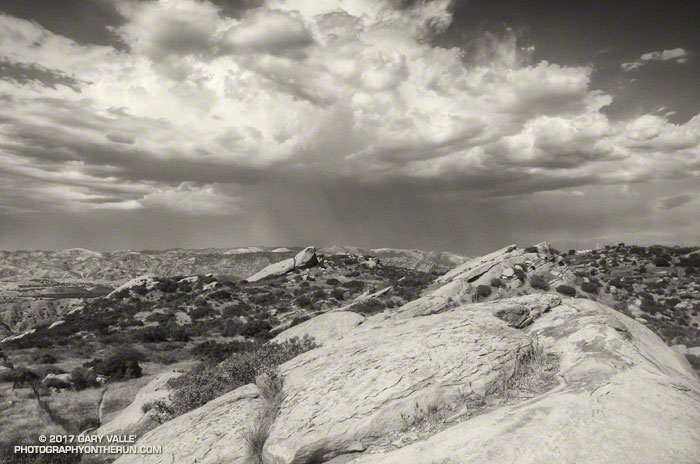 The photo above is from an afternoon run at Sage Ranch Park on August 31, 2017, during our recent heat wave. The thunderstorm in the distance is over Santa Clarita.
Around the time the photo was taken the temperature at the Cheeseboro RAWS was 110 °F, with an "in the sun" fuel temperature of 119 °F. The temperature at Ahmanson Ranch, where I often run on weekdays, was probably higher. I was running at Sage Ranch to try and take the edge off the heat — even if the reduction in temperature was only a few degrees.
During the heat wave the high temperature at Pierce College in Woodland Hills in the West San Fernando Valley exceeded 100 °F on nine consecutive days (August 24 to September 3) and exceeded 110 °F on five consecutive days (August 28 to September 1). Numerous temperature records were broken in Southern California and across the state. On September 1, Downtown San Francisco set a new all-time record high temperature of 106 °F.
At my West Hills weather station the high temperature for the month of June was 109 °F; for July 111 °F; for August 112 °F; and so far this September the high has been 113 °F. If I'm not heat-acclimated by now, I never will be.