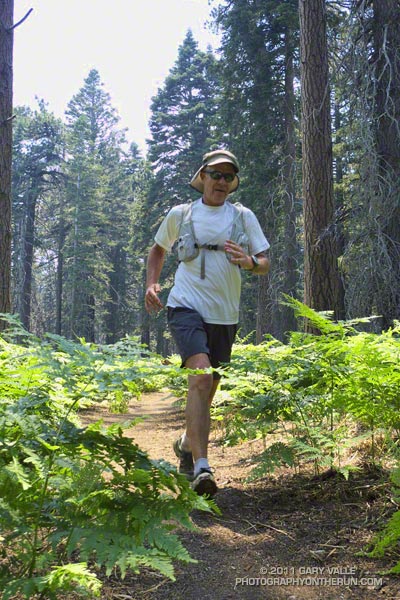 It had been about four months since I'd been to the summit of Mt. San Jacinto. Last time there had been several feet of snow, and the summit had been an inhospitable place with frigid temperatures and buffeting winds. Not so today. Short sleeves and running shorts were the attire of the day, and the weather was more like Malibu Beach than the summit of a 10,000 foot peak.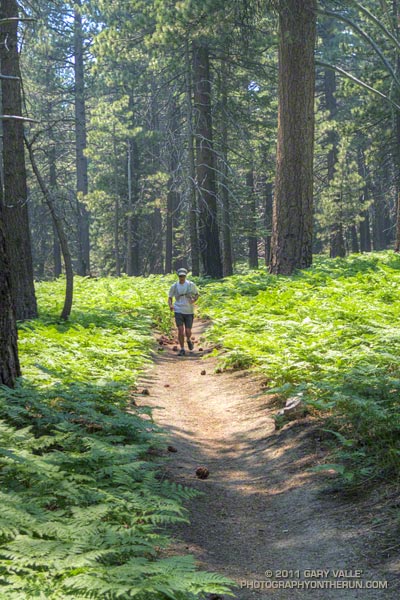 I was running with Craig Kinard, a long-time backpacker, but relatively new convert to trail running. With the help of Team CrossFit Academy, Craig discovered he likes to run up mountains, and has done well in both the Baldy Run to the Top and Mt. Wilson trail races. Next month he's planning to run his first ultra — the Mt. Disappointment 50K.
Today we were doing an approximately 20 mile course from Long Valley (8400′), near the top of the Palm Springs Tram, up to San Jacinto Peak (10,834′), then down to the historic Tahquitz Peak Fire Lookout (8,828′). From the Lookout we would return to the Tram by way of Hidden Lake Divide. Totaling about 4000′, the ups and downs would be good training for the 6200′ of elevation gain in this year's Mt. Disappointment race.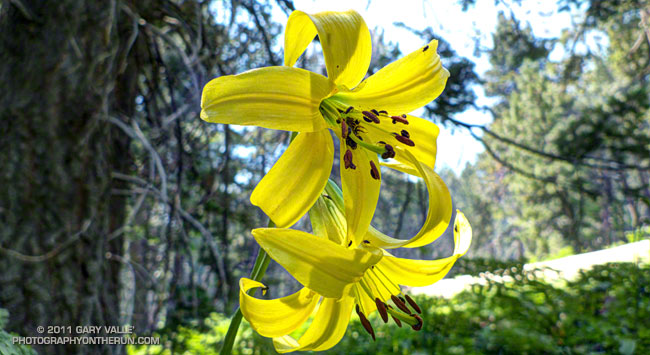 Winter snow translates to Summer water, and its beneficial effects could be seen in everything from the new growth on the chinquapin to the healthy green of the pines. Wellman Cienega was a green wonderland of ferns and corn lily, and near Skunk Cabbage Meadow bright yellow lemon lilies were sprinkled among the bracken and old growth Jeffrey pines. In places western azalea bloomed in profusion, its sweet fragrance mixing with the smells of damp earth and sun-warmed pine needles.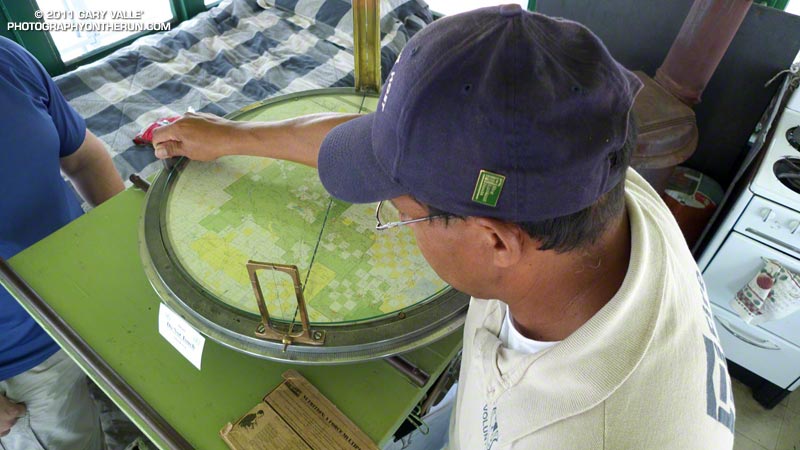 Smoke from the Eagle Fire remained trapped below a strong inversion most of the morning, and for a while views of Tahquitz Peak were crisp and clear. As temps warmed the inversion weakened and there was a flare-up on the Eagle Fire. By the time we reached Tahquitz Peak Lookout, a smoky haze had moved into the area.
At the fire lookout volunteer host Joe Mendoza described the history of the tower and demonstrated the use of the Osborne Fire Finder. Using an earlier sighting he plotted the location of the fire and showed us it was in the vicinity of Warner Hot Springs. He also showed us the "hot seat" used in lightning storms. Thanks Joe!
It was an outstanding run! Here's a Cesium browser View of a GPS trace of the route, and an elevation profile generated in SportTracks.
Here are a few additional photographs:
Some related posts: Room with a View, Autumn Trail Running on Mt. San Jacinto, Mountain Weather