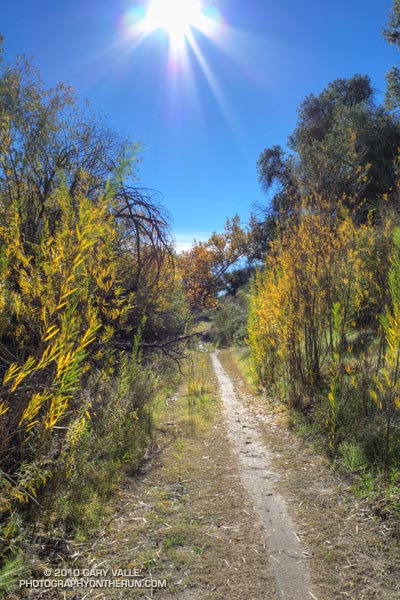 Today was one of those spectacular, sunny, warm December days we relish in Southern California; perfect for just about any outdoor activity. High temperatures were forcast to be in the high 80's or low 90's, and temperature records for the date were expected to be broken in many areas. As I ran north in upper Las Virgenes Canyon, I wasn't sure where, or how far, I was going to run. On such a great day, it really didn't matter.
Yesterday I'd looked across at Simi Peak while ascending Ladyface, and realized it had been more than a year since I'd run to Simi Peak from the Victory trailhead at Ahmanson Ranch. Rain was forecast the following weekend, so I'd better take advantage of the good weather while I had it! The out and back run to Simi Peak would be a good one.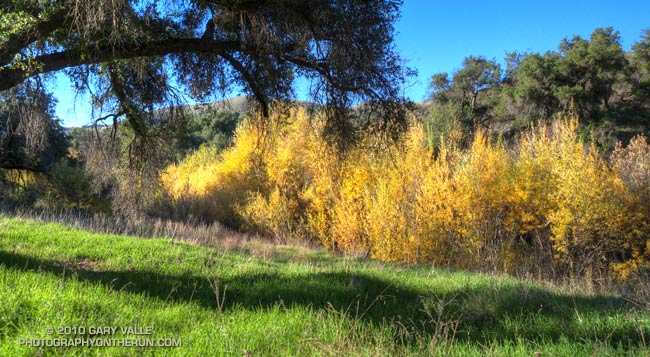 The most direct route to China Flat and Simi Peak from upper Las Virgenes Canyon road is the Sheep Corral Trail. This singletrack trail forks left (west) from the road where Las Virgenes Canyon splits, initially following the main creek west, rather than the pipeline north. The singletrack is popular with mountain bikers and can be used to connect to the Cheeseboro Ridge and Cheeseboro Canyon trails. Both of theses trails are good options for doing a lollipop loop back to Las Virgenes Canyon.
Today I would continue past Cheeseboro Ridge and Cheeseboro Canyon to the Palo Comado fire road. Palo Comado leads up and over a low pass to an old sheep corral at China Flat. Simi Peak is bit more than a mile west of the corral. It usually takes about 15-20 minutes to run there from the sheep corral.
Here's an interactive Cesium browser View of a GPS trace of my out and back route.
Some related posts: Simi Peak Out & Back, Scenic Route to Simi Peak, Vernal Pool at China Flat