Illuminated by the rising sun and partially enveloped in cloud, Boney Mountain's Western Ridge looked so inviting I thought about abandoning my planned run and climbing the ridge instead.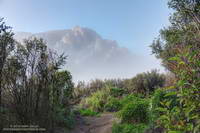 Pt. Mugu State Park is a great place for long, self-supported trail runs. The scenery is superb, the trails are generally in good condition, and water is usually available in several locations.
Today's run took me to two of the most scenic areas in the Park — Serrano Valley and La Jolla Valley. This archived PDF map shows many of the trails in the area. The Wendy Drive trailhead is in the upper right corner of the map. La Jolla Valley is marked and Serrano Valley is near the "PARK" in the label "POINT MUGU STATE PARK." Also see the Pt. Mugu State Park maps on VenturaCountyTrails.org
The marine layer kept the temperature cool for most of the run, but the sun finally broke through as I ran up Sycamore Canyon on the Two Foxes trail, on the way back to the Wendy Drive trailhead.
Although much of the run was overcast, a good selection of wildflowers added some bright color to the cloudy day.
Some related posts: Serrano Valley, La Jolla Valley