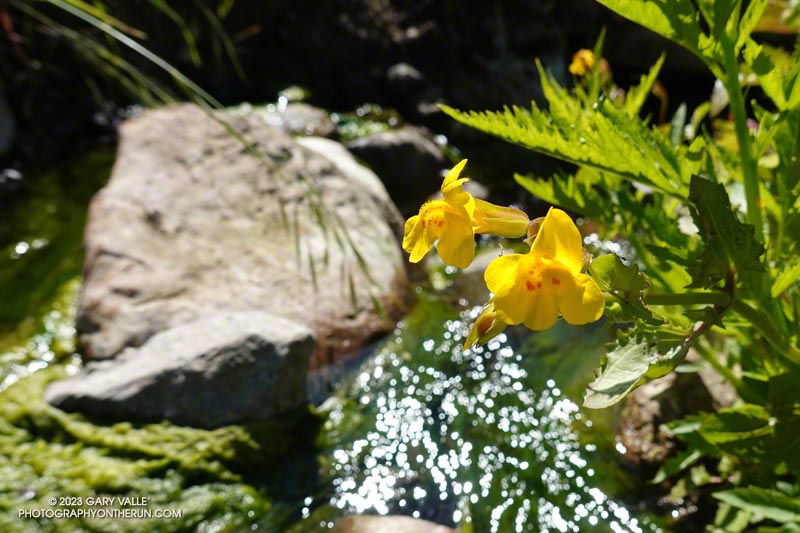 The seasonal bridge across Malibu Creek is back! No sketchy log to test your balance or thigh-deep water to wade through — just walk across.
This afternoon I'd returned to Malibu Creek State Park to check on the bridge, count the surviving coast redwoods on the Forest Trail, and see what was happening on the Lost Cabin Trail.
When running the Bulldog Loop a couple of weeks ago, I did a quick check of some of the redwoods on the Forest Trail but skipped the back half of the trail. Today, I crawled through the downed trees blocking the trail and checked the rest of the trees.
I counted seven surviving redwoods. Several of these are  multi-tree groups consisting of two or more trees. These family groups  were counted as one tree. One of the trees, and perhaps more, was naturally germinated. Most of the trees looked healthy, but appearances can be deceiving.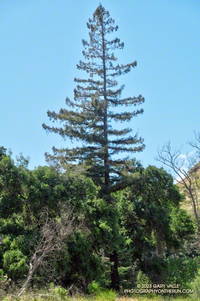 One redwood is just a few feet from the Crags Road Trail. It's on the right side of the trail, just past the seasonal bridge, when going west on Crags Road toward the M*A*S*H site. The unique conifer is easy to spot among the other trees.
The start of the Lost Cabin Trail is on the left as you enter the M*A*S*H site going west on Crags Road. Like the Forest Trail, it is less used and isolated but has a character all its own. Today, the Lost Cabin Trail was a trove of brightly colored wildflowers.
Here are a few photos taken along the way.
Some relate posts: Wonderful Wildflowers, a Seasonal Bridge, and a Cranky Rattlesnake on the Bulldog Loop; Lost Cabin; More Malibu Creek Flooding