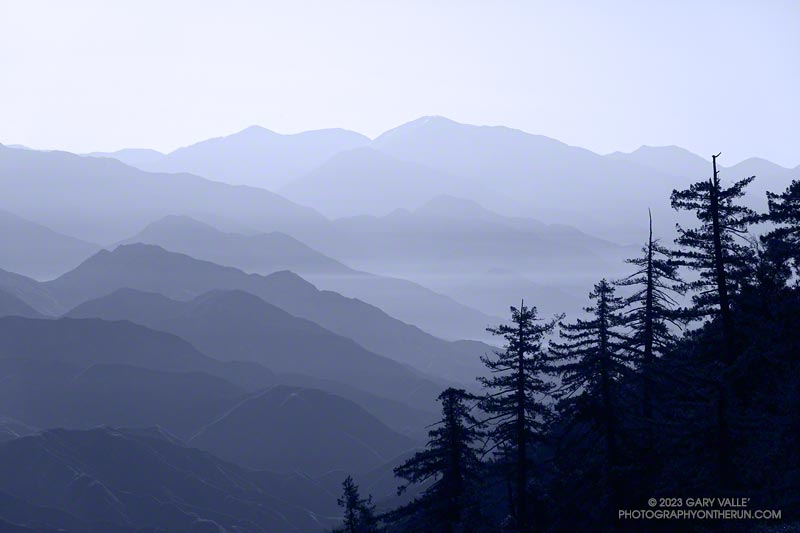 On June 1, Angeles National Forest reduced the size of the Bobcat Fire Closure, opening up most of the upper West Fork San Gabriel River area. Curious to see how the West Fork area is recovering from the Bobcat Fire, today I ran a slightly shortened version of the ANFTR/Mt. Disappointment 25K course.
Since the Mt. Wilson parking lot is usually closed until mid-morning, this morning's run started and ended at a small turnout near the top of the Kenyon Devore Trail on the loop road on Mt. Wilson. The ANFTR Trail Races start at the main Mt. Wilson parking lot.
I'd recently done the San Gabriel Peak and Bill Riley Trails and knew they were in reasonable condition. And I'd read that AC100 Trail Work Teams led by Gary Hilliard and Ken Hamada had cleared the Gabrielino and Kenyon Devore Trails earlier this year. So, I didn't expect to have a repeat of the epic fallen-tree obstacle course that I experienced doing this course in 2020.
Here is what I found.
Explore the terrain of the Mt. Wilson – Red Box – West Fork – Kenyon Devore Loop using our interactive, 3D trail run visualizer. It's like being there! The loop is a slightly shorter version of the ANFTR 25K. The map can be zoomed, tilted, rotated, and panned. To change the view, use the control on the upper right side of the screen. Track and placename locations are approximate and subject to errors.
Related post: An ANFTR/Mt. Disappointment 2020 Adventure