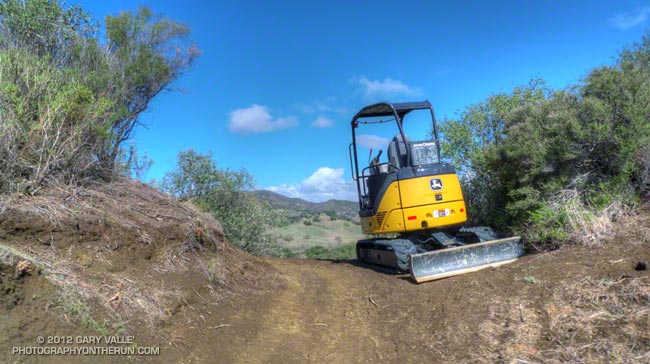 In addition to some melting white stuff that looked like snow and a mountain lion sighting, another surprise on my run last Sunday is that the Tapia Spur Trail is being reworked to better accommodate multiple user groups.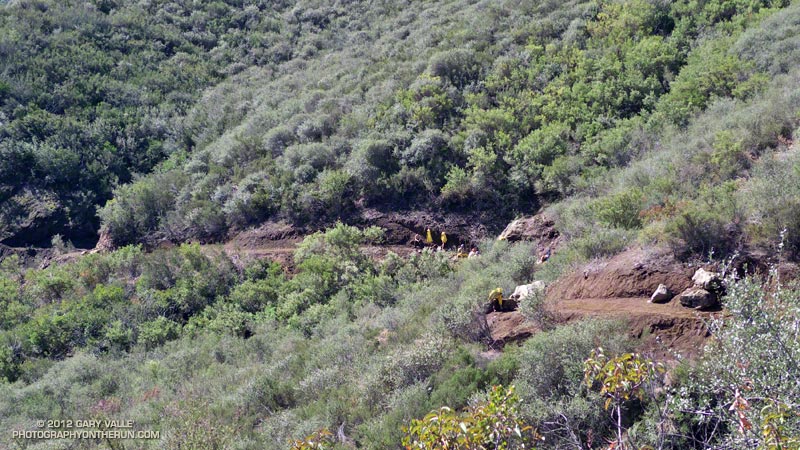 A little more than a mile in length, the Tapia Spur Trail connects Tapia Park to the group campground parking area in Malibu Creek State Park. This provides a linkage between the Backbone Trail and MCSP's main trailhead and parking area, enabling a variety of hikes and rides, including the popular 14.5 mile Bulldog loop.
Modifications include restoring the trail tread, brush maintenance, swale crossings, smoothing the grade, changing the trail alignment to improve sight distance and grading, adding pinch points to slow cyclists, adding areas of retreat, and other changes. Here's an aerial overview of the work being done (PDF) and a description of project (PDF).
According to Craig Sap, District Superintendent of the Angeles District of California State Parks, the work is expected to be completed during the first week of May. The trail remains open during the project.