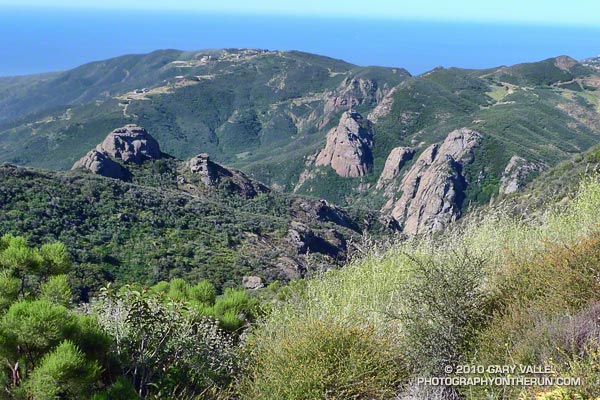 The great view confirmed it — we had run uphill. The new section of the Backbone Trail was so well-graded that the 850 feet of elevation gain from the trailhead at Encinal Canyon Rd. seemed almost effortless. For the next 14 miles, we would run through one of the most scenic areas of the Santa Monica Mountains; a rough and rugged highland with a character that might put it halfway around the world, rather than 35 miles from downtown Los Angeles.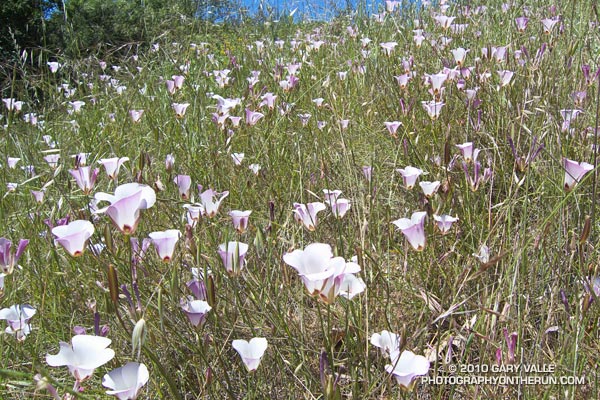 On this May Day morning, the canyons were cool, the sun warm, and the skies clear. From the craggy heights views extended from Catalina to the Channel Islands; and from Topa Topa to the San Gabriel Mountains. Winter rains had produced a profusion of wildflowers, accenting the trails with the whites, blues, yellows and reds of Spring.
It was an extraordinary day in which mile after mile of trail would pass underfoot with surprising ease. It was the best kind of training — a run in which the training was an afterthought, and the focus was on the experience, rather than the logbook.
Here's an interactive Cesium ion view of the 23 mile route from Encinal Canyon Rd. to PCH at Sycamore Canyon. The elevation gain on the run was about 2500 ft., and elevation loss about 3800 ft. Continuing to the Ray Miller trailhead by way of the Wood Vista, Overlook and Ray Miller trails would add about 3 miles and another 1000 ft. of gain. Another option would be to run through Serrano Valley to Sycamore Canyon. The Fireline Trail is a short distance down canyon from the Serrano Valley Trail, and could also be used to link to the Overlook and Ray Miller trails.
And here's a photo of the Yerba Buena segment of the Backbone Trail when it was under construction in 2003.
Related post: Boney Mountain Crags