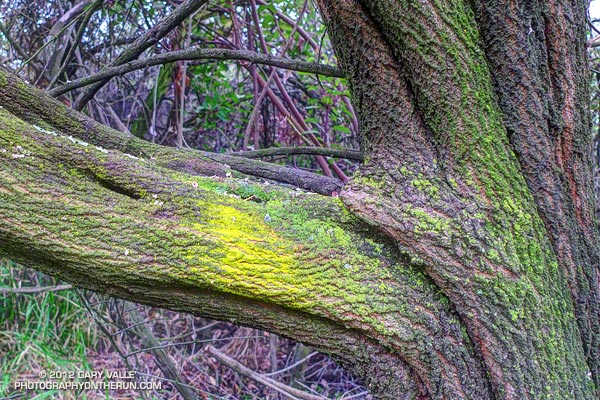 Rain brings out the richness of the chaparral, enlivening its inhabitants, enhancing its colors, and enriching its fragrances. But in recent weeks rain storms have been few and rainfall far below normal.
The 2011-2012 rain season started out well enough. Thanksgiving Day the water year rainfall total for Downtown Los Angeles (USC) was about an inch above normal. But between Thanksgiving and Christmas the drier weather often associated with La Nina conditions became predominant, and water year totals dropped to about normal.
Northern and Central California were actually much drier than would be expected during a La Nina. Mammoth Mountain recorded no new snow between December 5 and January 19 — about a month and a half! Our dry spell was nearly as long. Downtown Los Angeles recorded no measurable rain between December 17 and January 21.
The storms Saturday and Monday added about 1.3 inches of rain, boosting the water year rainfall total to 5.06 inches. As of yesterday this was 1.87 inches below normal and about 73% of the normal total.
The problem is this time of year we fall behind another 0.12 to 0.15 inch every day that it doesn't rain. The deficit adds up quickly and if — as the medium range models currently project — we don't get any rain for the next 10 days we'll down another inch and at about 64% of normal. We'll see!
The photograph of the Ceanothus trunk is from last Sunday's Will Rogers – Temescal loop trail run.
Related posts: The Color of Rain II, The Color of Rain