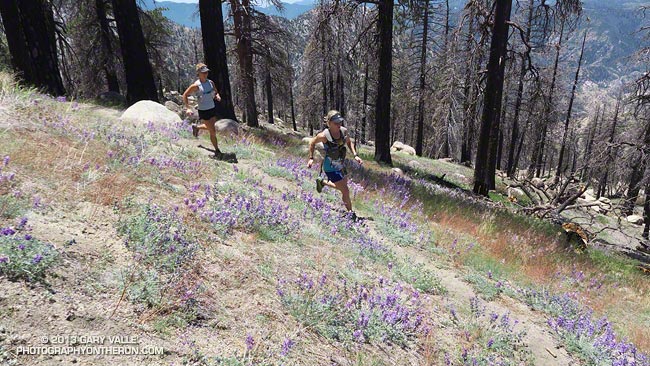 Did the 20 mile Three Points – Mt. Waterman Loop a couple of times this month. The first time was during a heat wave similar to what we're going through now. It was one of those days when you drive to the trailhead early in the morning, open the car door, and the "brisk" mountain air is a surprising 75 or 80 degrees. After doing the run I checked the temperatures recorded at nearby Chilao, and by 9:00 a.m. the temperature was already at 90°F.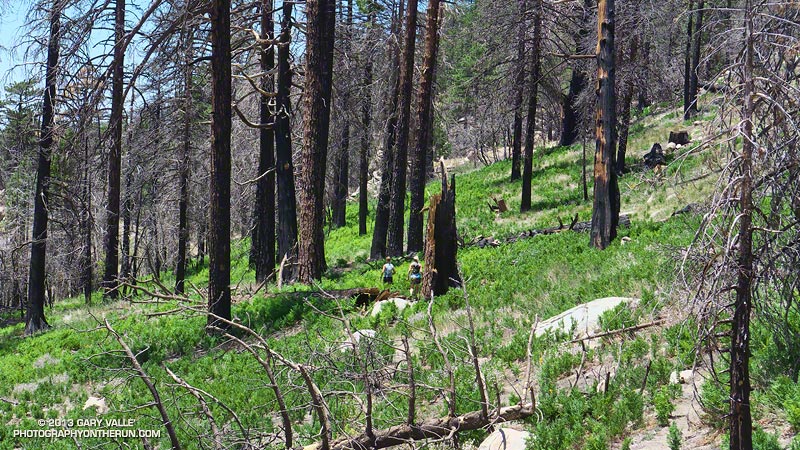 The title photo is of Ann and Skye on trail 10W04, between Mt. Waterman and Three Points. Here's another photo of them in an area covered with bracken fern on a section of the trail that burned in the 2009 Station Fire. It doesn't look like it, but they are on a trail!
Last weekend I did the loop again, and the temperature was about 15 degrees cooler. What a difference!
Some related posts: Three Points – Mt. Waterman Loop, Southern Pacific Rattlesnake on the Burkhart Trail, Three Points Loop Plus Mt. Waterman