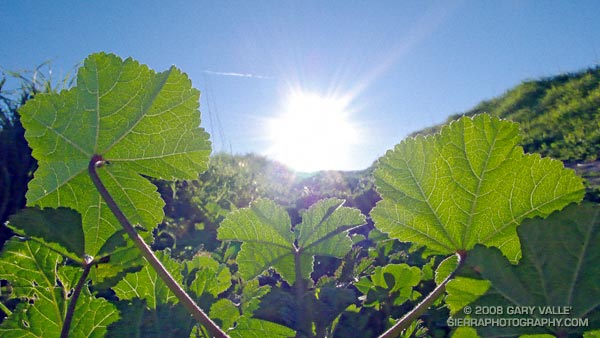 Updated 03/13/08.
My run of the "keyhole loop" at Ahmanson Ranch started out as a tempo run — not so much as being part of a rigorous training program, but because of a dead battery in my car remote. It felt good to push the pace a bit.
Part way through the loop, running up a short hill into the sun, I was struck by a repetitive pattern of backlit leaves in the new growth on and alongside the road. Like little green satellite dishes, hundreds of the round leaves of mallow (Malva neglecta) were facing directly into the late afternoon sun.
Mallow (Malva spp.) is an invasive plant from the Mediterranean area that has flourished in Southern California's Mediterranean climate. In most years, it is very common. I've run and hiked past thousands of these plants, but never noticed this synchronicity.
Tracking the sun makes sense. Our climate has an extremely variable and relatively short growing season. A plant that maximizes its intake of solar energy and growth by orienting its leaves toward the sun would have an advantage over a less adaptable species. This is probably one of the reasons mallow is such a successful invasive. Another invasive that grows alongside mallow, black mustard, also appears to exhibit heliotropism as it is growing. It creates a rosette of leaves facing into the sun by raising leaves on the side of the stalk away from the sun, and lowering leaves on the side of the stalk toward the sun.
From a run during the week at Ahmanson Ranch — now Upper Las Virgenes Canyon Open Space Preserve.
Technical papers:
Diaphototropic Movement of the Leaves of Malva Neglecta

H. C. Yin
American Journal of Botany, Vol. 25, No. 1 (Jan., 1938), pp. 1-6
HELIOTROPISM AND WATER AVAILABILITY EFFECTS ON FLOWERING DYNAMICS AND SEED PRODUCTION IN Macroptilium lathyroides

ARMANDO MARTINS DOS SANTOS, LUIS MAURO GONÇALVES ROSA, LUCIA BRANDÃO FRANKE, CARLOS NABINGER