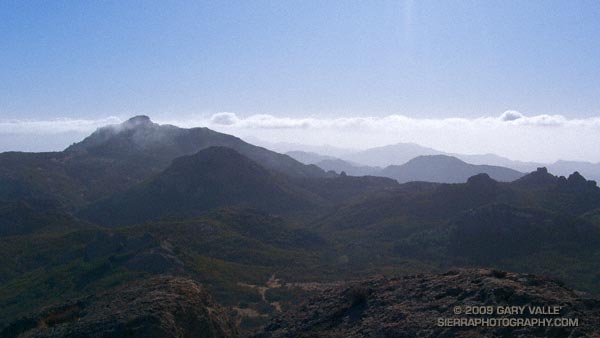 We had been scrambling up the rocky north ridge of Boney Mountain for almost an hour. During that time the clouds along the crest seemed unable to make up their mind — thickening, then thinning, gathering then dissipating. Now, as we climbed the final steep step to the crest, they were gathering and thickening once again. I wondered how difficult the route-finding was going to be in a pea soup fog.
The plan was to work up and over Tri-Peaks to Sandstone Peak, then backtrack on the Backbone Trail to the Chamberlain Trail, following it down into the Sycamore Canyon drainage. From there we would see.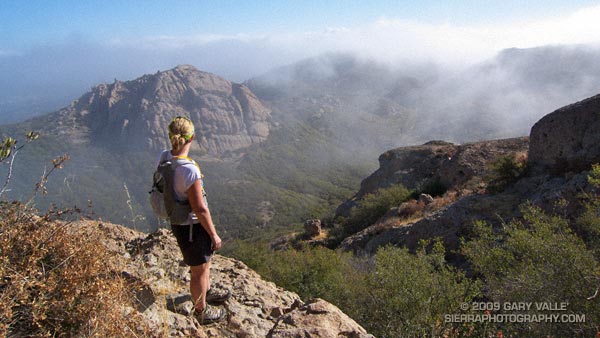 Cresting the top of the ridge, I paused to get oriented. Across the canyon, Tri-Peaks lay cloaked in clouds, with only its broad base visible from my vantage point. As we traversed along the cliff toward the peak's northern flank, nebulous patches of cloud whisked by, carried on a brisk breeze. Reaching a saddle, we wove our way through giant boulders and chaparral to the crags that form Tri-Peaks' summit.
As if passing through a hidden portal, the clouds dissolved as we worked over to the south side of the peak — opening to a brilliant blue sky. Across the canyon, Big Dome had wrestled free of its tentacles of fog, and to the east, Sandstone Peak stood Everest-like, its summit wreathed in a veil of cloud.
It was a day energized with the zeal of Autumn — a day to climb a peak, and then run down a mountain, across a valley, and over a distant horizon.
Some related posts: Sandstone Peak from Wendy Drive, Boney Mountain North Side Loop