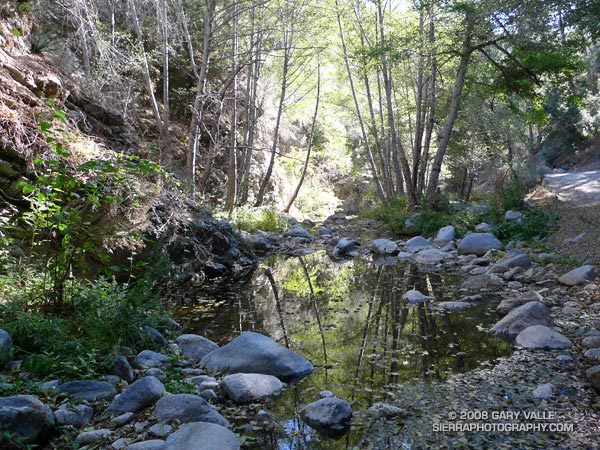 We stopped for a few moments at the river crossing, where water stood in pools waiting for Winter rain. Instead, cold air flowed down its course, cool and refreshing. From this point there would be little shade. Rarely cold, the climb out from the West Fork San Gabriel River to Shortcut Saddle is often warm, and sometimes debilitating.
Miklos, Krisztina and I were doing the Shortcut Saddle – Mt. Wilson loop — an approximately 22 mile loop that includes two memorable climbs from the Mt. Disappointment 50K and 50M runs. The loop also incorporates the Rim Trail, an adventurous trail that is rough, steep, and washed out at points, but also includes long stretches of excellent trail running. The route starts with almost four miles of downhill on the the Silver Moccasin Trail — a good warmup and a great way to start a trail running day.
Thankfully, today the weather was cool and the Fall shadows long. This translated to more running and a faster pace up Rincon-Edison road. Even so, we were happy to reach the point where the Silver Moccasin Trail shortcuts the last long switchback of the road, and followed this more direct route up to the trailhead.
Our variation of the climb from the W.F. San Gabriel River to Shortcut Saddle on the Rincon-Edison Road was about 5.6 miles long, with an elevation gain of about 1925 ft.  The climb from the W.F. San Gabriel River at West Fork campground up the Gabrielino and Kenyon DeVore trails to the Mt. Wilson parking lot worked out to about a 2550′ elevation gain in 5.2 miles. The total elevation gain for the loop is about 4500′.
Related posts: Angeles High Country, Mt. Disappointment 50K 2008 Notes