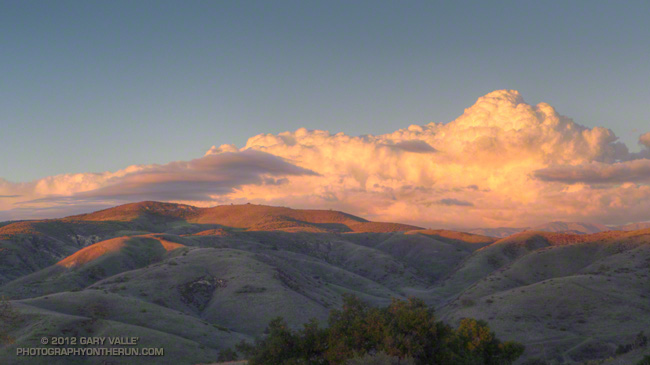 Sunday, running in the rain on Rocky Peak, it occurred to me that I'd done a lot of runs on rainy days this Fall.
When I got back from the run I checked the NWS web site and found that during the months of October, November and December there have been 17 days with measurable rain at Downtown Los Angeles. Normal for that period (to date) would be around 9 days.
The thing is, we've yet to have a day with a half-inch or more of rain Downtown, and we're only at about 60% of normal rainfall for the water year.
At the moment it looks like another weak system passes through tomorrow afternoon and evening, followed by somewhat wetter systems Sunday night and Wednesday.
At times both the GFS and ECMWF have been forecasting a stronger system might impact Southern California near the end of the year. Today the GFS has it in our forecast and ECMWF doesn't.  The culprit in the ECMWF forecast is a cutoff upper level low, so look for the forecast to change!
The photograph of the cumulus buildups (north of Los Angeles) is from a run at Ahmanson Ranch on December 13, following the passage of a cold front.