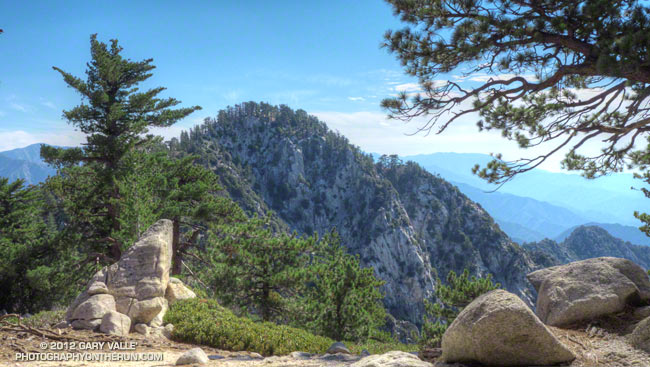 Twin Peaks in the San Gabriel Mountains, near Los Angeles, has always been a favorite. Rugged and isolated, its eastern summit is a popular ascent. Judging from the far less worn path leading to its summit, the western peak is not as frequently visited.
From the Buckhorn parking area it's about 5 miles to the summit of the east peak and then another 0.9 mile to the west peak. The total elevation gain/loss (round trip) including the west peak is around 3800′. Although there's some steep up and down, there's also some long stretches of very good trail running.
With so many hot days and runs this Summer, this run/hike was the perfect welcome to Autumn. The morning was cool, but not so cool as to require sleeves. Over the course of the run some fair weather cumulus popped up here and there, and it was just one of those days that it was wonderful to be in the mountains.
The title photograph is East Twin Peaks (7761′) from near West Twin Peaks (7596′).
Some related posts: Mt. Wilson Area Peaks From Twin Peaks, Three Points to Waterman Mountain the Long Way