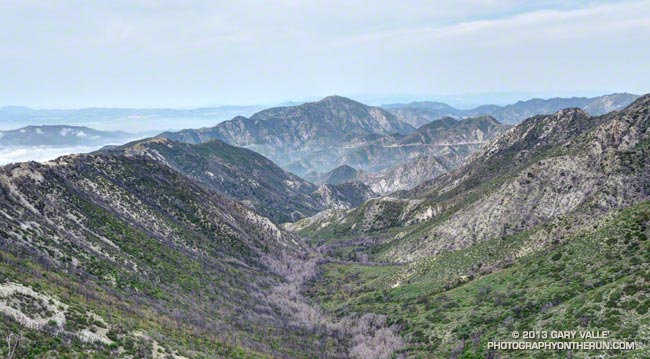 Doing a moderate run in the San Gabriels and climbing a few peaks was a great way to unwind from the excitement of doing the 68 mile Backbone Ultra last weekend.
I felt good. I'd run more or less normally in the week following the event — depleted, but without any physical issues. In part that can be attributed to how Coyote Cohorts runs their events. It was basically a long training run in the company of a great bunch of runners and the help of incredible volunteers. Amazing! The long hours of training also really helped, particularly the back-to-back runs following 50Ks and the back-to-back night/day training runs. My shoes — Hoka Mafate 2s — also helped, reducing the impact of all the miles.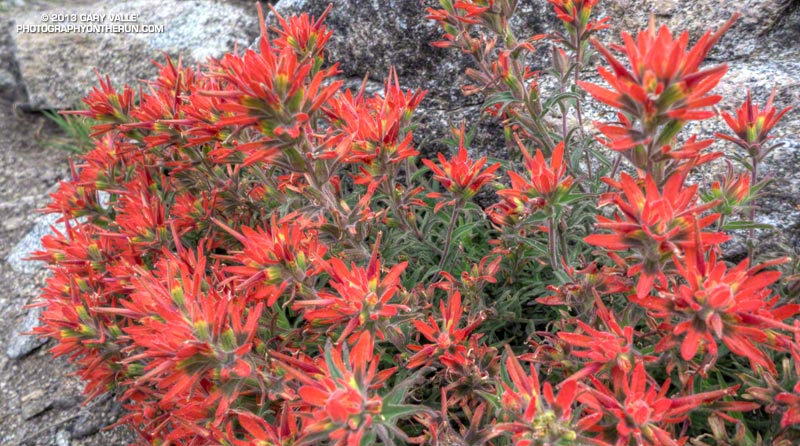 One of the reasons for doing today's run was to check how Poodle-dog Bush and some other plants are faring in this low rainfall water year. Since July 1 Downtown Los Angeles has recorded only 5.14 inches of rain. Unless we can manage to wring about a half-inch of rain from the heavens before June 30, this water year will go down as the fourth driest since record-keeping began in 1877. The driest water year on record was in 2005-2006 (3.21 inches). Assuming we don't get that 0.48 inch of rain, three of the four driest water years have occurred since 2000.
Something I noticed on the Backbone run and recent training runs in the Santa Monica Mountains is that plant growth and flowering has been surprisingly robust given the amount of rainfall. This was also the case today on today's run — the manzanita on the San Gabriel Peak Trail was covered in blossoms and bees, and the nightshade and paintbrush along the trail also seemed to be doing well.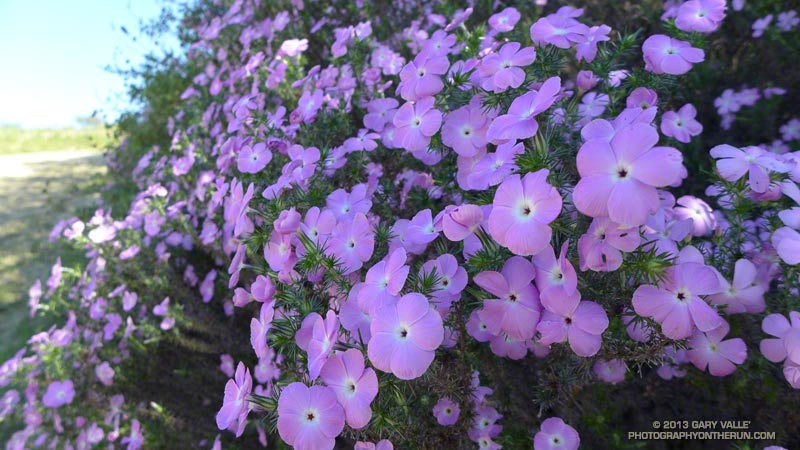 What about the Poodle-dog bush, aka Turricula? It looked about the same as last year at this time — just starting to come out of Winter dormancy. Last year we had above average rainfall in April and it really seemed to spur the growth of Poodle-dog bush. This year maybe we'll see what an extended period of dry weather does to it. Last year some of the Poodle-dog died before the rain in April.
Here's a short slideshow of a few photos from today's run in the San Gabriel Mountains, as well as some photos of plants and flowers on recent runs in the Santa Monica Mountains.