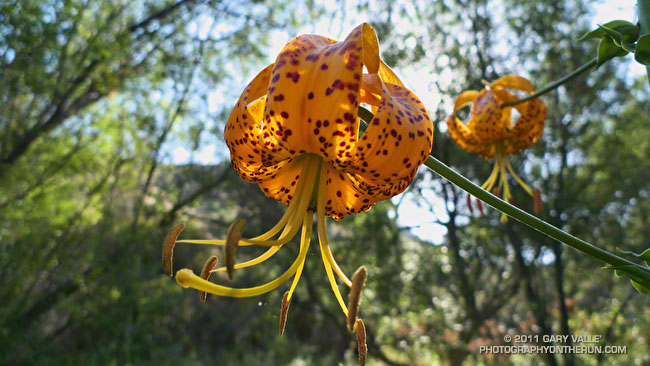 Was looking to get in a short run this morning and decided to check if any Humboldt lilies were blooming in Upper Las Virgenes Canyon.
The last time I'd seen Humboldt lilies bloom here was June 2006, following an unusually wet Spring and a two year period in which Downtown Los Angeles recorded 50+ inches of rain. 
This Spring some months were wet and some months were dry, but December 2010 was the wettest in Los Angeles in 121 years. Add to the mix that the last two water years Los Angeles recorded above average rainfall, and it seemed there was a pretty good chance the Upper Las Virgenes Canyon lilies would be in bloom.
I'd seen lily stalks in other areas in recent weeks, and some blooming Humboldt lilies in the San Gabriel Mountains, but when I checked Upper Las Virgenes Canyon in early May, there had been none. But today there was — right in the middle of thorny patch of blackberry bushes.
Also blooming in the canyon were California wild rose and the non-native plant moth mullein — so named because of the similarity of the flower's anthers to the fuzzy appearing antennae of a moth.
Related post: Humboldt Lily