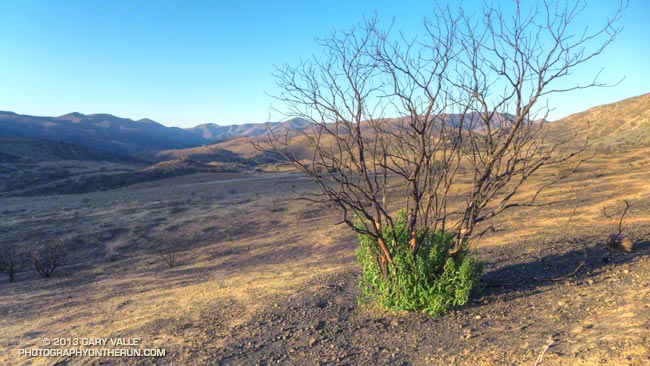 Trying to understand the behavior of wildlife can be perplexing, particularly when it involves human interaction. Sometimes I just shake my head and wonder what an animal is thinking.
I was in the middle of a 13.5 mile loop in Pt. Mugu State Park, chugging up the Old Boney Trail in the Boney Mountain Wilderness, about 2.5 miles past its junction with the Blue Canyon Trail.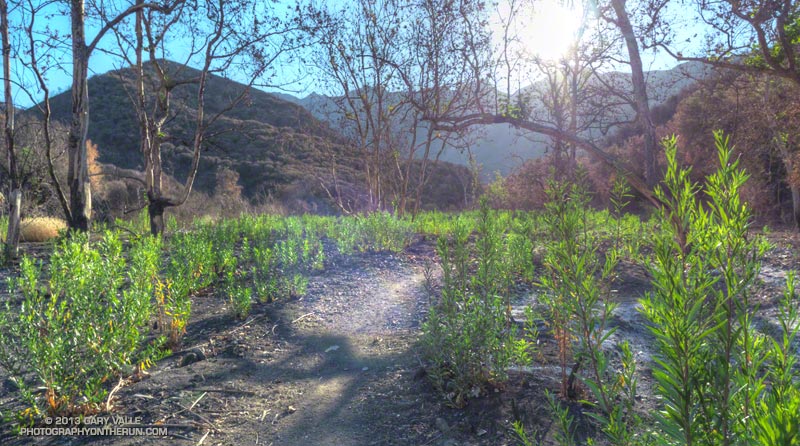 From time to time I've been checking the progress of recovery in Springs Fire burn area. Ecologically the area is very complex and as a result of the varied terrain, habitats, vegetation patterns, soil moisture and burn severity, the rate of recovery has also been varied.
The recovery has been further complicated by the season of the fire — just before Summer — and by below average rainfall. Taking into account the unusual circumstances, the sprouting of sycamore, oak, walnut, bay, red shanks, laurel sumac, toyon, mule fat and other plants has been surprisingly robust.
The stretch of the Old Boney Trail I was on now had been severely burned. It was along a steep, rocky canyon that still looked quite barren. Many chaparral plants sprout from surviving roots following a fire, but some plants such as the bigpod Ceanothus in this area must regrow from seeds which sprout following Winter rains.
With the lack of vegetation I was a little surprised to see a California Towhee land on the rocky trail a few feet ahead of me.
The California Towhee lives in the chaparral and I see them frequently on trail runs. It is about as nondescript as a bird can be — gray-brown and little smaller than a dove. They have a peculiar habit of emerging from the brush, scurrying a few feet along a trail just ahead of a hiker or runner, and then darting back into the brush.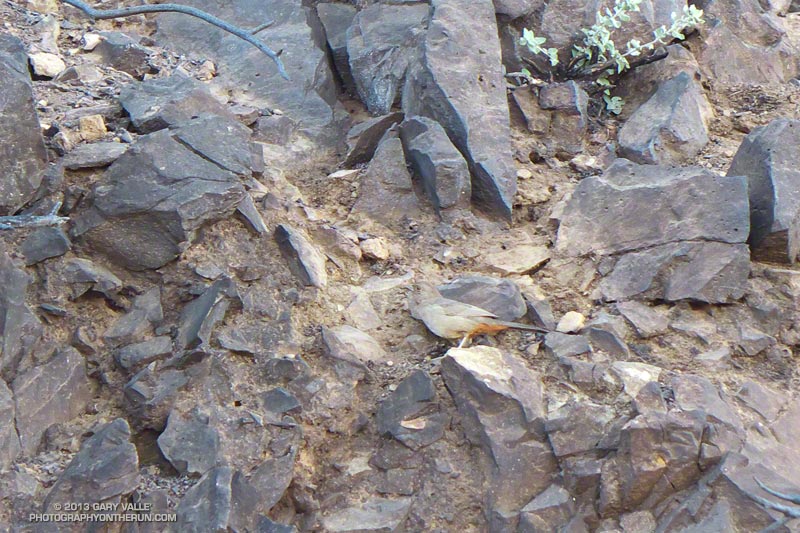 Inexplicably this particular bird carried this behavior to the extreme, scampering along the trail just ahead of me for more than 2 minutes, eventually pausing on some rocks along the trail and watching me pass. The time from the first picture of the bird on the trail to the last was 2 minutes 14 seconds. That's one-Mississippi, two-Mississippi, all the way up to one hundred thirty-four-Mississippi.
I often see towhees in pairs and sometimes with rabbits when both are foraging. The rabbit acts as an early warning device for the bird and vice versa. Did the towhee see me as a really big rabbit? All I could do is watch the bird and wonder.
Some related posts: Chasing Towhees and Other Rainy Day Activities, Coyote Tag, Coyote Tag II, Hawk, Bobcat and Rabbit