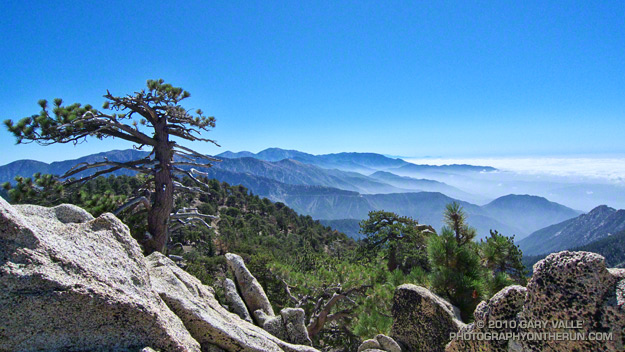 Weekend highs in California were down 30-40 degrees from the searing temps earlier in the week. After dealing with the heat, my jaw dropped when I read Sunday's NWS forecast for the Eastern Sierra:
 .SUNDAY…PARTLY SUNNY. A CHANCE OF SNOW SHOWERS AND A SLIGHT
 CHANCE OF RAIN SHOWERS IN THE MORNING…THEN A CHANCE OF
 THUNDERSTORMS AND SNOW SHOWERS IN THE AFTERNOON. SNOW LEVEL ABOVE
 9000 FEET IN THE MORNING. HIGHS 40 TO 52 IN THE HIGHER ELEVATIONS…
 AROUND 59 NEAR 8500 FEET. WEST WIND AROUND 10 MPH SHIFTING TO THE
 SOUTH IN THE AFTERNOON. CHANCE OF PRECIPITATION 40 PERCENT.
 
Now that is great August weather forecast!
 
I couldn't get to the Sierra, but I could do a run in the Angeles High Country — and I was willing to bet the upper level trough that was producing unsettled weather in the Sierra would also result in a cool, Autumn-like day in the San Gabriel Mountains.
And it did! Compared to my midweek runs, running up the Mt. Waterman trail was like going for a swim in a high mountain lake. Just spectacular!