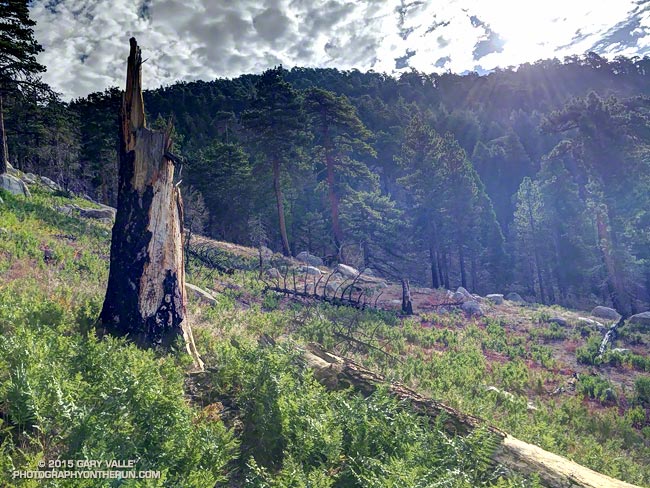 The area in the image above was burned by the Station Fire on September 7, 2009. That morning I'd just crossed the peak-top finish line of the Baldy Run to the Top and using a tiny point and shoot camera took this snapshot of the Station Fire burning on Mt. Waterman.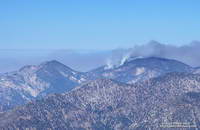 The image of the fallen trees and ferns is from today's counterclockwise circuit of Waterman Mountain from Three Points. It was taken at an elevation of about 7100′ about 3.5 miles from Three Points and about 1.5 miles west of the Twin Peaks Trail junction. Here the Station Fire burned swaths of forest, running up steep gullies and ridges on the south slopes of the mountain.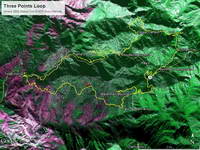 The purple hues in this Burned Area Emergency Response (BAER) image taken by the NASA Ikhana remotely piloted aircraft in 2009 are indicative of the burn severity in the vicinity of Three Points and Mt. Waterman. (Ikhana image courtesy of NASA Dryden and NASA Ames. Composite image created using Google Earth Pro.)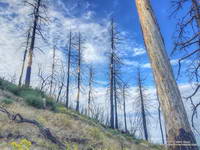 The yellow track in the BAER image is of the Three Points – Mt. Waterman loop. The track includes a side trip to the summit of Mt. Waterman I didn't do today. About one-third of the approximately 20 mile loop was impacted by the fire. If the loop is done counterclockwise the first couple of miles are the most severely burned and have the most downed trees and Poodle-dog bush. Use trails have developed around the fallen trees, but it seems a new tree or two has fallen each time I do the route. With care the Poodle-dog bush is generally avoidable.
Some related posts: After the Station Fire: After the Station Fire:Three Points – Mt. Waterman Loop, Three Points – Mt. Waterman Loop, Southern Pacific Rattlesnake on the Burkhart Trail, Twin Peaks Trail Run