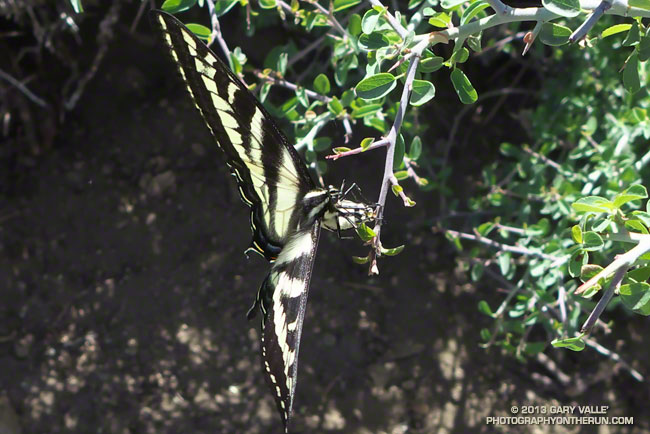 We had run from Mt. Pinos (8831′) to Mt. Abel (~8280′) on the Vincent Tumamait Trail stopping by Sawmill Mountain (8816′) and Sheep Camp (8200′) along the way. Valley temps were forecast be well into the 100s, but here had ranged from a cool 60-something in the shade to the high 70s on the exposed sections of trail — perfect for trail running.
I'd paused at about 8700′ on the way back up Mt. Pinos to take a photo of some phlox, when a western tiger swallowtail flitted past and started to land here and there on a spiney low shrub at the margin of the trail. There was something peculiar about the butterfly's behavior. Rather than stopping completely, it would hover briefly at one spot and then move to another. There were no flowers on the snow bush where it was hovering, so it wasn't feeding.
Perhaps 18-24 inches away, the butterfly reacted when I started to move the camera, so I just stood quietly, holding the camera near my waist and took several photos.
A closer look at the photos revealed the butterfly was laying golden-green eggs on the snow bush.
Some related posts: Tiger Swallowtail on Snow Plant, Western Tiger Swallowtail, Vincent Tumamait Trail, Thunderstorm, Atmospheric Dynamics