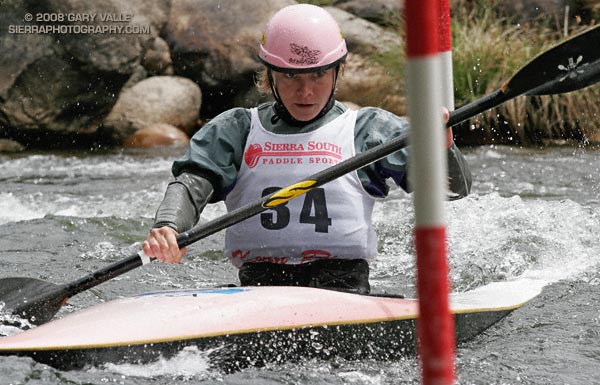 2002 World Champion and 2004 Olympic Silver Medalist Rebecca Giddens S-turns through a red "up" gate while racing in the T.J. Slalom at the 2007 Kern River Kayak & Raft Festival.
A whitewater slalom course consists of a series of red gates and green gates that are paddled sequentially through a set of rapids. The paddler must pass through red gates moving in the upstream direction, and green gates moving downstream. Racers are timed, and a 2 second penalty is added for each gate that is touched, and a 50 second penalty added for each gate that is missed.
Typically, there are 18 to 25 gates, with 6 to 7 up gates, and the rest downs. The gates are placed to create challenges for the paddler, and the difficulty of a slalom course is usually about a grade higher than if the same rapids were paddled without gates.
In national and International races a specialized whitewater slalom boat is required, but at local citizen races paddlers also use plastic river-running kayaks and even playboats. Paddling slalom gates is a great way to improve your river-running skills!
At the elite level, higher performance boats and custom built whitewater venues have upped the adrenalin factor for competitors and spectators alike. The whitewater events were one of a few that sold out at the attendance plagued Athens Olympics. The Beijing Olympic Canoe/Kayak Slalom venue  looks challenging, and should warrant good television coverage by NBC.
In the past decade, whitewater kayaking has grown in popularity, but the sport hasn't lost its "small sport" appeal. The  sport's medal winning athletes, such as Rebecca Giddens, are not only superb paddlers, but are also very humble, hard working and hard playing people, willing to share their expertise and ideals. Rebecca and her husband Eric — also an elite paddler — now live in Kernville, California and operate the very popular brewpub, the Kern River Brewing Company. Eric will be setting the courses (gate sequences) for the whitewater events at the Beijing Olympics.
1992 Olympic Gold Medalist Joe Jacobi also works hard and plays hard. Joe, along with his partners at Gold Medal Connections offer paddling camps and clinics across the country. This year's Gold Medal Kayaking Camp was the 11th on the Kern River. Joe will be part of the NBC broadcast team covering Canoe/Kayak events at the Beijing Olympics. For Joe's "thoughts, ideas, and life lessons from the outdoors" see his blog Gold Medal Living.
If you're curious about slalom, or whitewater boating, the 2008 Kern Festival is April 19-20 at Kernville's Riverside Park. The Festival will feature two days of non-stop action with a steep creek race and raft races on Saturday; and a downriver race and the T.J. Slalom Race Sunday. There's no charge to watch, and as a result of this year's good snowpack, river conditions should be nearly ideal!
Google search: $g(whitewater slalom), $g(olympics), $g(Kern River), $g(Rebecca Giddens), $g(Joe Jacobi), $g(brewpub)