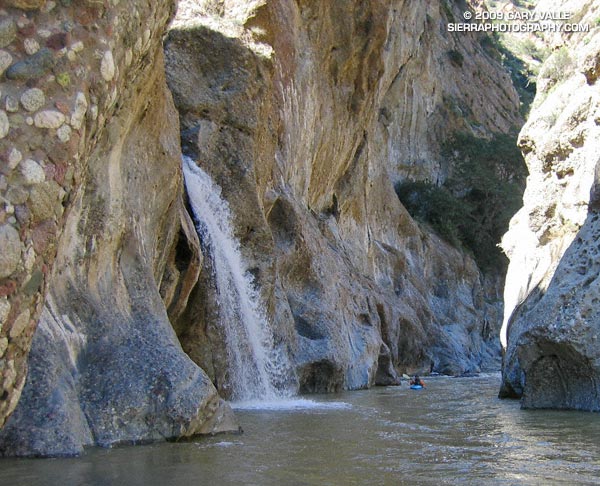 Gary Gunder Paddling in Falls Gorge on Piru Creek
Today President Barack Obama signed the Omnibus Public Lands Act, extending federal protection to more than 2 million acres and 86 rivers in nine states. Included in the Act are provisions to create new wilderness areas and expand existing wilderness areas in California, and to extend Wild & Scenic protection to eight rivers in California, including 7.25 miles of Piru Creek downstream of Pyramid Lake. Piru Creek is the first stream in Los Angeles County to be protected by inclusion in the National Wild & Scenic Rivers System.
The following segments of Piru Creek have been added to the National Wild & Scenic Rivers System:
(A) The 3-mile segment of Piru Creek from 0.5 miles downstream of Pyramid Dam at the first bridge crossing to the boundary of the Sespe Wilderness, as a recreational river.
(B) The 4.25-mile segment from the boundary of the Sespe Wilderness to the boundary between Los Angeles and Ventura Counties, as a wild river.
The reach of Piru Creek downstream of the Ventura County line — which includes spectacular "Falls Gorge" — was not addressed in the 2009 legislation. This section is within the congressional district of Rep. Elton Gallegly, and hopefully will be extended Wild & Scenic status in future legislation. In the meantime, a large part of the reach is within the Sespe Wilderness and is afforded the protection that the wilderness designation and having a Wild & Scenic section upstream, provides.
The photograph of Gary Gunder paddling in "Falls Gorge" on Piru Creek is from March 2005. More photos of Piru Creek can be found on my Southern California Creeking page Piru Creek – Frenchmans Flat Campground to Lake Piru.