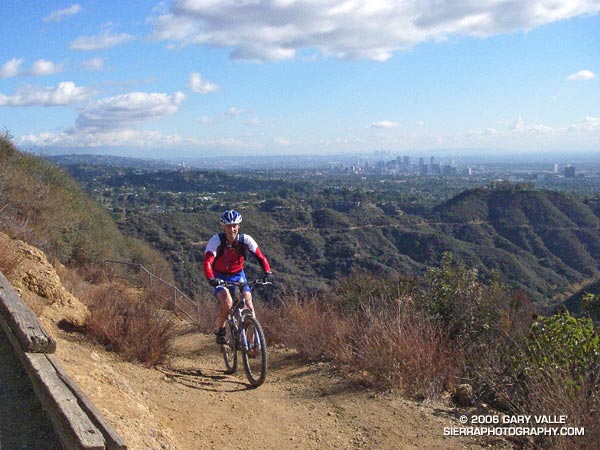 I paused for a moment on a narrow section of the Backbone Trail that zig-zags down a steep, eroded slope and then crosses a bridge over a narrow gorge before continuing down Rogers ridge. Below, a hiker stopped on the bridge to contemplate the canyon, and a mountain biker briefly walked his bike and then cranked up the switchbacks past me.
It had rained the day before, and the cold front had resulted in a chilly, puffy cloud, postcard kind of day with breezy panoramic views of the San Gabriel Mountains, Downtown, Century City, Santa Monica, Palos Verdes, and the Pacific Ocean.
The 7 mile segment of the Backbone Trail from Temescal Ridge fire road down to Will Rogers State Historic Park is one of my favorite (mostly) downhill stretches of trail in the Santa Monica Mountains. Over much of its length, the grade is not too steep, the footing consistent, and the running outstanding.
My usual route for this run starts the same as for the Trippet Ranch Loop and Garapito Figure 8 runs, going up to the Hub from the end of Reseda Blvd. From the Hub it's about 0.6 mile along Temescal Ridge Fire Road to the point where the Backbone Trail takes off to the left from the road.
Once at Will Rogers, the Rivas Canyon Trail can be used to connect to Temescal Gateway Park, and then the Temescal Falls or Ridge trail used to connect with Temescal Ridge Fire Road and return to the Hub. (Mountain bikers use other routes.)
Overall the route is about 21 miles long, with about 3500′ in elevation gain/loss. Here's a Google Earth image and Google Earth KMZ file of a GPS trace of the route.