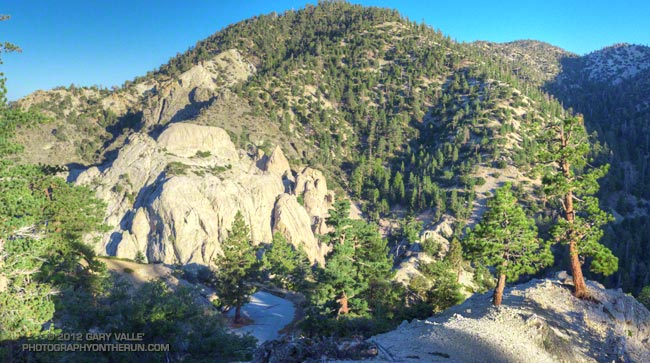 Update 8/21/18. Nearly 13 years after the closure of Williamson Rock and a key segment of the Pacific Crest Trail, the Forest Service has released a Draft Environmental Impact Statement for the Williamson Rock Project. The public comment period is from July 27 to September 10, 2018. For additional information see the Forest Service Williamson Rock Project page and the Access Fund page REOPEN WILLIAMSON ROCK TO CLIMBING!
Update 12/22/13. New Williamson Rock/PCT scoping letter, dated 12/18/13, from Angeles National Forest to "consider resuming recreation opportunities in the currently closed area, in and around Williamson Rock."
————
The following was posted 10/5/12.
It's been nearly seven years since the Forest Service "temporarily" closed approximately 1,000 acres in the upper Little Rock Creek drainage in the San Gabriel Mountains in order to protect critical habitat of the mountain yellow-legged frog (MYLF). The closed area includes Williamson Rock, a once-popular rock climbing area, and a key 3.5 mile segment of the Pacific Crest Trail between Eagle's Roost and the Burkhart Trail.
As might be expected when an issue is complex and involves several concerned parties, resolution has been painfully slow. Williamson Rock is a large formation encompassing many smaller climbing sub-areas. The majority of these areas are outside of MYLF habitat. The Recreational Development Alternative protects MYLF habitat while allowing recreational access to other areas of the formation. (See the Access Fund Williamson Rock page for more information.)
Last year United States District Judge Marilyn Hall Patel (Northern District of California) ordered Angeles National Forest to "halt all construction and close access to the Williamson Rock Area of the Angeles National Forest until the Amended Biological Opinion and accompanying ITS is filed and the matter is reviewed by the parties and the court." It is unclear how much time will be required to complete these filings and subsequent reviews.
In the meantime, a recent article in the Los Angeles Times suggests there might be some reason for optimism concerning the fate of the MYLF, with "the fist-sized amphibians breeding in numbers not seen in decades."
The title photograph is from last Sunday's Pleasant View Ridge run.