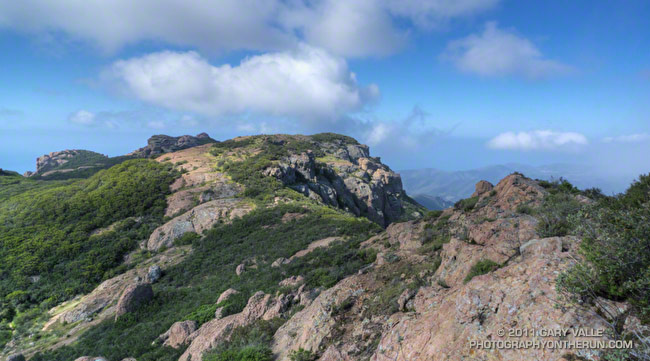 The Wendy Dr. trailhead in Newbury Park is a gateway to some of the most scenic and spectacular trail runs in the Santa Monica Mountains. Runs, hikes and rides on the extensive and diverse network of trails can range from a few minutes, to many miles and hours.
Today my run was of the "few hours" variety. The weather in Pt. Mugu State Park was perfect for a longer run — partly cloudy, light winds, and the temperatures ranged from the high 40s in the morning to the high 60s midday.
La Nina or El Nino, rain seasons as wet as the 2010-11 season are relatively rare. The wet weather produces a cascade of effects, resulting in conditions that might not be seen again for years. Streams that had not run for years were flowing; numerous wildflowers were blooming; the chaparral and other plant communities, and their inhabitants, were flourishing. I did not want to miss anything.
With that thought in mind, my route took me up and over Boney Mountain and Tri Peaks to the Backbone Trail, and then down the Chamberlain Trail and Old Boney Trail to the Serrano Valley Trail. After running through resplendent Serrano Valley, I continued down Serrano Canyon, crossing the creek 15 times, all the while trying to avoid the lush growth of poison oak along the trail. Even the miles returning up Sycamore Canyon were enjoyable, and involved a few stream crossings. The Upper Sycamore Trail and Danielson Road led back to Satwiwa and the trailhead.
On this particular day it was as fine a trail run as I have done, and probably the most scenic loop I've done in the Santa Monica Mountains.
Some related posts: Western Rim of Boney Mountain, Conejo Valley Sun and Boney Mountain Clouds
Here are a few additional photographs from the run: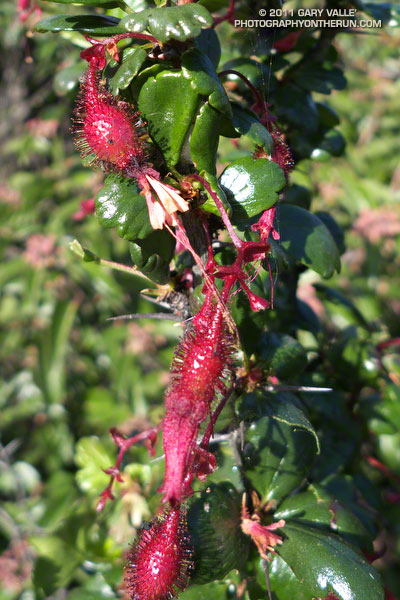 Fuchsia Flowered Gooseberry