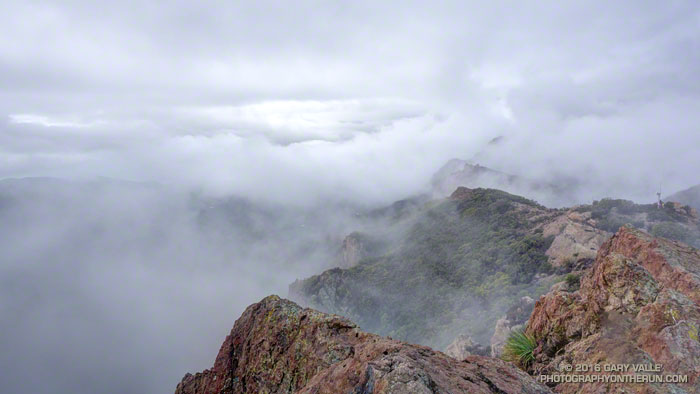 For the most part the upper layer of clouds had been above Boney Mountain. Thin wisps of cloud had clung to the ridges in a couple of places, but the ceiling looked like it was going to remain above the peak.
But then something unusual happened. A lower deck of clouds formed in the Conejo Valley, and then expanded upward, enveloping me as I worked up Boney's Western Ridge. It wasn't a whiteout, but in places the visibility was reduced to about twenty feet.
Fog changes the mood and character of a place, particularly a place where airy views and an expansive mindset are the norm. Thoughts turn inward and perceptions more narrowly focused. The big picture becomes entirely virtual.
Earlier in the week the area had been drenched by more than two inches of rain. It had been damp overnight and water filled the profusion of irregular pockets covering the volcanic rock. The rock was plastered with a patchwork of bright green moss and gray-green lichen. Saturated with water, the moss was slippery as ice. I climbed with extra care, especially on the steeper sections.
Where soil collected on tiered steps, obovate leaves of shooting-star and other annuals sprouted, presaging a show of the purple and yellow wildflowers. Chalk liveforever relished the moisture, its drought-scarred leaves rehydrating and recovering.
Higher on the ridge the intricate green foliage of red shanks, still recovering from the 2013 Springs Fire, was heavily-beaded with water. Brushing against it was like being sprayed with ice-cold water.
I remained immersed in cloud all the way up the Western Ridge, past Tri Peaks and over to Sandstone Peak, and didn't climb above them until near the summit of Sandstone Peak.
A few photos from the climb and run are below. Click an image for more info and to display the image full-size.
Related post: Increasing Clouds