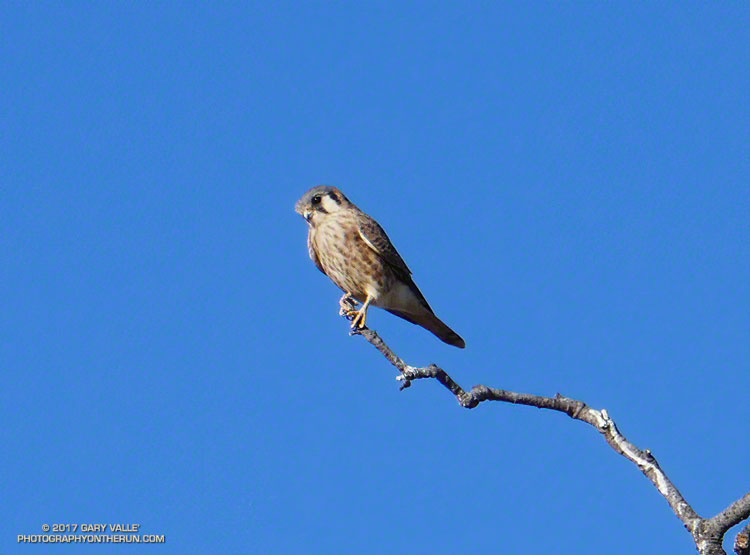 I was in that other-world you can reach when running, lost in thought and dreaming of dreams. As I approached the valley oak on the western edge of Lasky Mesa, I wondered if the tree was going to survive. Even though last Winter had been wet, it had been a hot summer, and this once-elegant star of TV and film was still struggling with the deleterious effects of five years of drought. Leaves grew in clusters along its spindly limbs as if it had been burned in a wildfire.
Nearly under the scraggly valley oak, I slowed to a walk to look at it more closely. Glancing upward I did a double-take… Perched on a bare limb at the top of the tree was a small raptor. So small, that it had to be an American kestrel.
Kestrels are extremely wary birds with acute vision, and I was surprised it had not flown as I had run toward the tree. I've seen and heard kestrels many times at Ahmanson Ranch, but never this closely. The diminutive falcon was only about 15′ above me. My camera was in my pack and just about any movement was going to spook the bird.
Ever so slowly, I turned my back to the bird and walked a few steps away from the tree. Wishing I had eyes in the back of my head, I carefully removed my camera from my waist pack, turned it on, made sure it was set correctly, and partially extended the zoom lens. Turning back toward the tree, I expected the falcon to be gone, but it had not flown.
I took a set of bracketed photos and then another. I needed to be a little closer. I took two or three slow steps toward the tree. As I raised the camera, the female kestrel — burnt orange across the back and upper wings — had had enough. With a powerful stroke of her wings she turned and leapt to flight, once again leaving me to my thoughts.