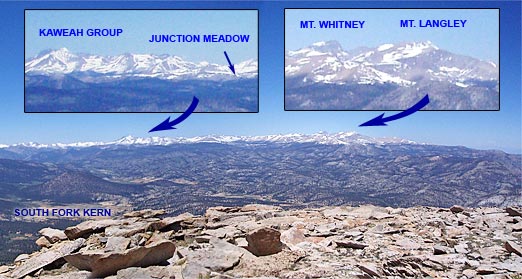 Part of the Panorama from Olancha Peak
Olancha Peak (12,123 ft.) is the prominent, pyramidal peak seen on the Sierra crest from Hwy 395, south of Olancha. Its rocky summit is above tree line, and in some years snow can persist in the east-facing summit gullies and other sun-protected areas into late June, or early July.
There are better choices for a run in the Sierra, but early in the summer when the passes on other routes are blocked by snow, Olancha may be passable. Views from the summit of Olancha Peak are expansive, and the running on the PCT was enjoyable. Round trip, the distance is an arduous 20 miles, with over 6300 ft. of elevation gain and loss.
The trail starts at Sage Flat, at a relatively low elevation of 5800 ft. As a result, in warm weather it can be hot and dusty. In addition, the trail segment up to Olancha Pass (9200 ft.) can have a lot of pack train traffic. To lessen the chance of encountering horses or mules on the trail, I opted to follow a very steep and rough "cow driveway" that shortcuts 1.3 miles of the trail up to Olancha Pass. It's hard to imagine driving cattle up this swath, and judging from the cow femur I saw sticking up from the rubble, the cattle don't find it so easy either.
Beyond Olancha Pass, the aesthetics improve, and a spur trail is followed northwest along Summit Meadow to a junction with the Pacific Crest Trail. The PCT eventually leads to the west slopes of Olancha Peak, and from here the summit is a short second class scramble. Here's a Google Earth image and Google Earth KMZ file of a GPS trace of my route.
This summit panorama is from a run on June 26, 2005. The view shows the headwaters of the N.F. and S.F. Kern River, and the high peaks of the Southern Sierra. From south (left) to north (right) are the Little Kern, the N.F. Kern near Hole in the Ground, Kern Peak, the Great Western Divide, the Kaweah Group, Junction Meadow, Mt. Whitney, and Mt. Langley.