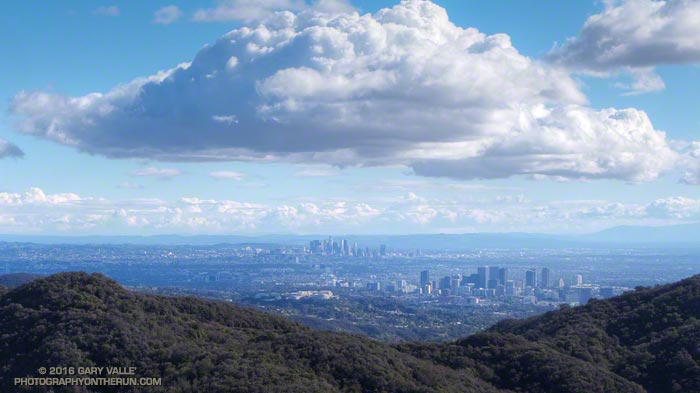 Updated January 4, 2017.
Not since the beginning of the drought has Downtown Los Angeles experienced such a wet December. As of December 31, 2016:
• December rainfall was 2.22 inches above the monthly normal of 2.33 inches.
• The 4.55 inches of rain recorded was the wettest December since December 2010 and the most for any month since January 2010.
Since the Rain Year began July 1, 5.95 inches of rain has fallen at Downtown Los Angeles (USC). This is 1.63 inches above the normal July-December rainfall of 4.32 inches. It is the best start to the Rain Year (Jul 1-Jun 30) and Water Year (Oct 1-Sep 30) since 2010.
The photograph of Century City and Downtown was taken from Temescal Ridge while doing the Will Rogers – Temescal Canyon loop from the End of Reseda Saturday (December 24). According to NWS records Downtown Los Angeles recorded 2.32 inches of rain from December 21 to December 24..