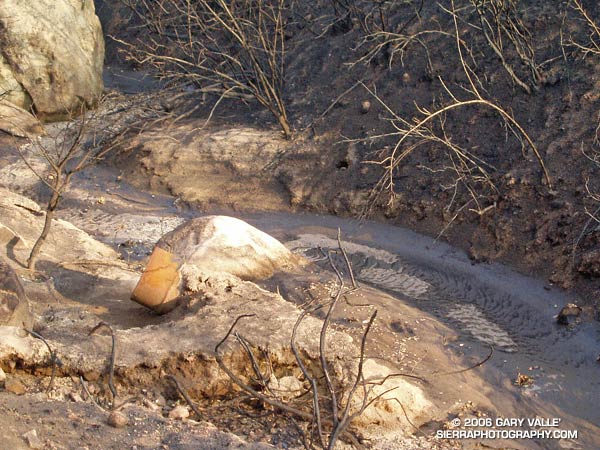 Updated 02/21/08.
In late September 2005, the Topanga Fire burned many thousands of acres in the Simi Hills. One of the side effects of the fire was to reveal the extent of the refuse that was in the creek bed that runs east-west between Boeing's Santa Susana Field Laboratory and Sage Ranch Park.
The rusty storage drum in the photograph above is just one of several drums and other refuse I saw partially buried in the sediments of the creek.
These photographs are from a run at Sage Ranch on October 21, 2005. In March and April 2006 some restoration and other environmental work was done in this area, and some of the refuse pictured may have been removed. The area is recovering from the fire, and the section of the creek bed pictured is now so overgrown it is difficult to tell.
This topographic map shows the location of the creek relative to Sage Ranch and Rocketdyne, and (in red) the Sage Ranch loop trail. The creek is part of the Meier Canyon drainage, which flows into Simi Valley.
Here are some additional sources of information regarding environmental issues in the area:
Department of Toxic Substances Control Santa Susana Field Laboratory Site Investigation and Cleanup Web Site
Department of Toxic Substances Control Project Documents: Santa Susana Field Laboratory
Boeing: About Us – Environment – Santa Susana Field Laboratory
Wikipedia: Santa Susana Field Laboratory