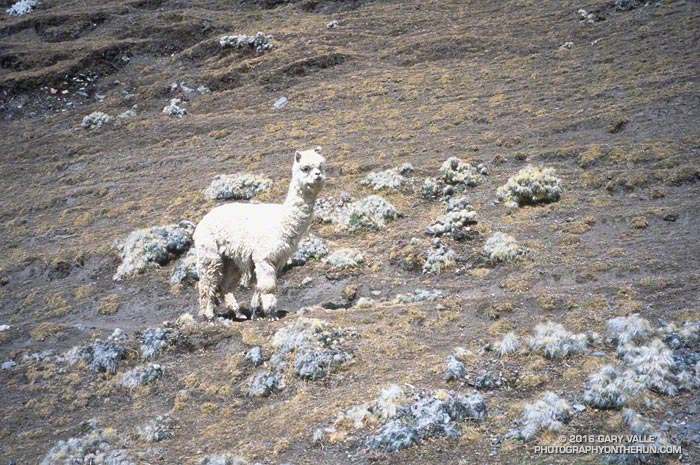 This photograph of an alpaca was taken at about 15,000′, running down from Palomani Pass (16,600 ft.) on a Circuit of Mt. Ausangate (20,905 ft.) organized by Andes Adventures. It was part of a large herd grazing on the mountainside.
We did the circuit in July, which is mid-Winter in the Southern Hemisphere. The alpaca's thick coat protects it from the harsh, alpine conditions. Temps were relatively moderate when we were there, but still dropped to 0°F overnight.
Evidence suggests the alpaca was domesticated 6000-7000 years ago and bred for its fiber and meat. It is intriguing how much the alpaca's coat looks like the clumps of cacti growing on the hillside. From a distance an alpaca would be difficult to distinguish from the plants, however this doesn't appear to be an adaptation. Genetic analysis suggests the alpaca is descended from the vicuña, which has different coloration. The cactus is a species of Oreocereus, commonly called "old man of the Andes."
Like Llamas, alpacas are camelids, though some claim they are related to Ewoks.