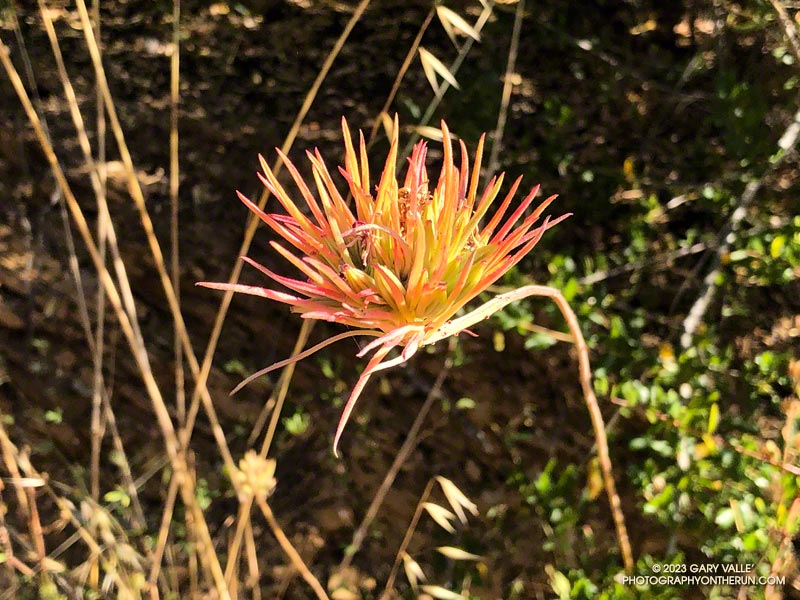 Recently, while doing the Bulldog Loop in Malibu Creek State Park, I noticed a peculiar plant about a half-mile up the Bulldog climb. The linear, red-tinged "petals" were unusual in the early morning light. I snapped a photo of it, planning to identify it later.
When I looked at the photo later that day, I couldn't ID the plant. Hoping to get some hint about its identity, I tried various "AI-powered" searches and apps. This included Google Lens, Bing Visual Search, Pl@ntNet, iNaturalist Seek, PlantSnap, Flora Incognita, LeafSnap, and others. The most common matches were air plants such as Tillandsia ionantha and various species of paintbrush.
This wasn't a huge surprise. The AI-based applications were having the same problems I was having — they were not "familiar" with this particular stage of the plant's life cycle. They also were not keying on an important element of the image.
After a few days without any progress identifying the plant, I headed back to Malibu Creek State Park to take a closer look at the plant.
That turned out to be more challenging than expected. Even though I had the plant's GPS coordinates, the time of day was different, with different lighting. The plant was also less colorful than before. I walked up and down a 30-yard stretch of Bulldog fire road several times before finally seeing it.
Once located, it didn't take long to find examples of the plant at an earlier stage of development. In one case, with leaves on the stem and another with leaves and a flower. This helped solve the mystery.
It turned out the plant was one with which I was familiar — Purple Clarkia (Clarkia purpurea). The title photo is after the plant has flowered and all but a terminal cluster of leaves on the stem have wilted. The 8-grooved, elongated-football-shaped structures intermixed with the leaves are ovaries. These are distinctive. A human expert would have immediately zeroed in on these.
The flowers of Purple Clarkia are usually much larger than seen here. They are typically purple-pink with a wine-red spot on each of the four petals. However, the color of the flowers varies, and wine-colored flowers are not uncommon. The size of the flower also varies. Jepson mentions that the subspecies intergrade extensively.
Using the photo of the plant in flower, some of the AI-based apps identified the genus as Clarkia and/or the species as purpurea, or at least included Clarkia among their suggestions.