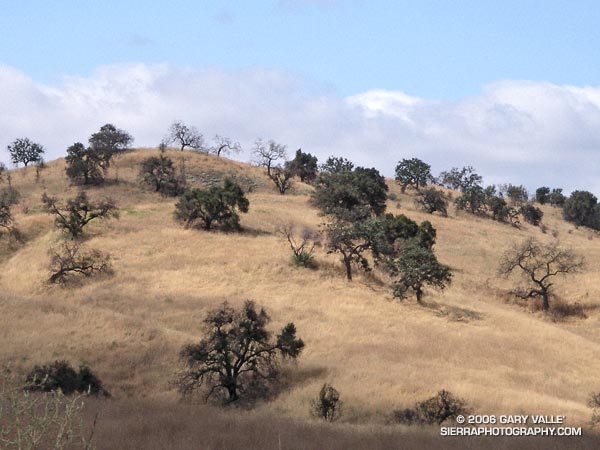 What a difference a week makes! At about 10:00 in the morning, when this photograph was taken, the temperature at a nearby weather station was a pleasant 78°F. Just a week before, the mid-morning temperature had been a blazing 104°F, and neighboring Woodland Hills had just set an all-time record high of 119°F!
The photograph is of valley oak savanna on the north slopes of Laskey Mesa in Upper Las Virgenes Canyon Open Space Preserve (formerly Ahmanson Ranch). As mentioned in the posting Laskey Mesa Oak, this area was burned in the 2005 Topanga Fire. If you look closely, the condition of the trees varies widely. Some have full crowns; some partial crowns; and some are nearly bare.
Headed back on the Ahmanson "main drag," I had done a keyhole loop through Cheeseboro Canyon, starting at the Victory trailhead. The 13 mile route is slightly shorter than the Bulldog Loop, and has less than half the elevation gain. Following several strenuous weeks, the idea was do some tempo and not too much climbing.
Here's a Google Earth image and Google Earth KMZ file of a GPS trace of the loop, and links to trail maps for Upper Las Virgenes Open Space Preserve and Cheeseboro/Palo Comado Canyons.
Related post: Ahmanson Blue Oak