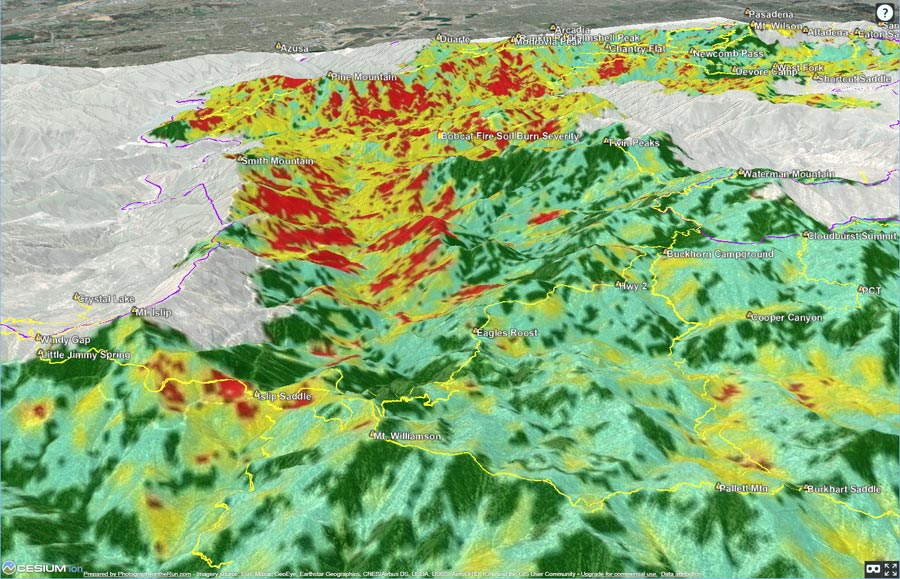 The 3D terrain image above shows an overlay of the Bobcat Post-Fire BAER Soil Burn Severity Map from the Burned Area Emergency Response (BAER) Imagery Support website. The burn severity classes are high (red), moderate (yellow), low (light green), unburned/very low (dark green), and no data (black).
Here is an interactive, 3D terrain version of the Bobcat Fire Soil Burn Severity Map. The map can be zoomed, tilted, rotated, and panned. To change the view, use the control on the upper right side of the screen.
GPS tracks (yellow) of the Pacific Crest Trail and some other trails and routes in the area have been added. An unofficial version of the Bobcat Fire closure boundary (purple) has also been added. The closure boundary data is from CalTopo and appears to be based on Forest Order 05-01-21-03 (PDF). Locations of GPS tracks, placenames, soil burn severity, and the closure boundary are all approximate and subject to errors.
Below are some starting points in the 3D terrain viewer:
Twin Peaks – Mt. Waterman – Buckhorn
Shortcut – West Fork – Mt. Wilson – Red Box
Mt. Wilson – Chantry Flat – Monrovia Peak
Little Jimmy – Islip Saddle – South Fork – Burkhart Saddle – Devils Punchbowl
For official information regarding Bobcat Fire closures, contact Angeles National Forest.