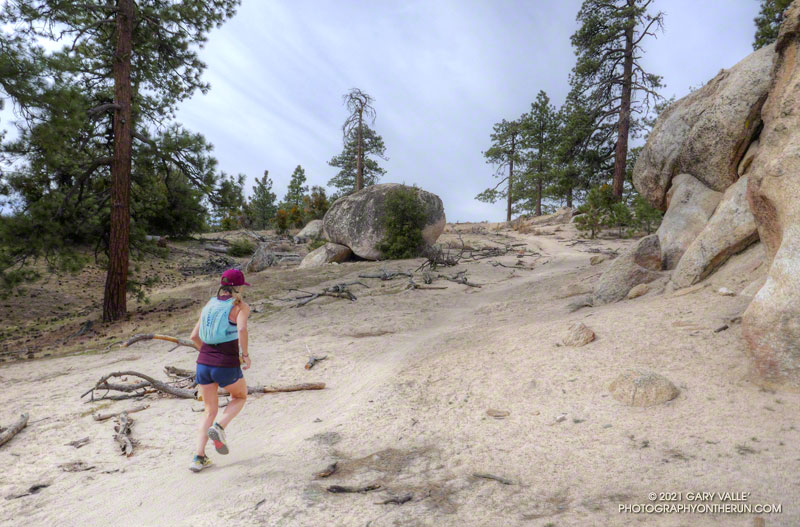 Snow — if there has been snow — disappears quickly from the middle elevations of the San Gabriels this time of year. Activity increases with the rising snowline, as visitors eye their favorite trails and peaks.
I was driving up Hwy 2 to Three Points to do a run with Skye. In a normal year we would be doing the Three Points – Mt. Waterman Loop, but for the second time in 11 years, the trails in the Mt. Waterman area had been closed by a wildfire. In 2009, the Station Fire burned 160,557 acres in the San Gabriel Mountains, and just last year, the Bobcat Fire burned 115,796 acres. In several places, including Mt. Waterman, the Bobcat Fire burned terrain that had been burned in the Station Fire.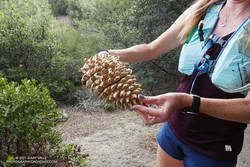 With entry prohibited in most of the Bobcat Fire burn area, the Three Points Loop around Mt. Waterman was out for now. Instead, we decided to do a segment of the traditional AC100 course from Three Points to Chilao, and then return to Three Points using the Silver Moccasin Trail.
Here's an overview of both the Three Points – Mt. Hillyer Loop (yellow) and the Three Points – Mt. Waterman Loop (red). An overlay of the Bobcat Fire BAER Soil Burn Severity has ben added to the Google Earth image. The burn severity classes are high (red), moderate (yellow), low (light green), unburned/very low (dark green), and no data (black). Trail and placemark locations are approximate.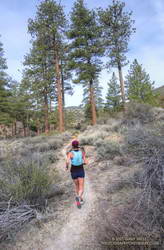 On today's run we followed the Pacific Crest Trail northbound from Three Points toward Sulphur Springs Trail Camp. Just before the camp, the PCT splits. We followed the left fork (uphill), and then around to the South Fork Little Rock Creek drainage and Sulphur Springs Road. The PCT parallels the road for about a half-mile, then crosses the road. At this point we left the PCT behind and continued up the road (5N04) to Alder Saddle and forest road 3N17. We continued left (south) on 3N17, bearing left on Santa Clara Divide Road at a fork, and going uphill to Rosenita Saddle.
At Rosenita Saddle we turned right (southwest) onto the Mt. Hillyer Trail. The trail starts at the back of a small parking area. The trail climbs to the high point of Mt. Hillyer, and then descends through large granite boulders in the Horse Flats bouldering area. (If you are a rock climber, bring your shoes!) The Mt. Hillyer Trail intersects the Silver Moccasin Trail near the Horse Flats Campground.
To add a little mileage and elevation gain, we turned right (south) on the Silver Moccasin Trail and continued to Chilao Campground. After saying hi to Chilao, we turned around and followed the Silver Moccasin Trail north, back to Three Points.
The trail run was a little over 13 miles, with a cumulative elevation gain of about 2100′. The high point was about 6200′, on Mt. Hillyer. The route-finding on the loop can be a bit tricky the first time around.