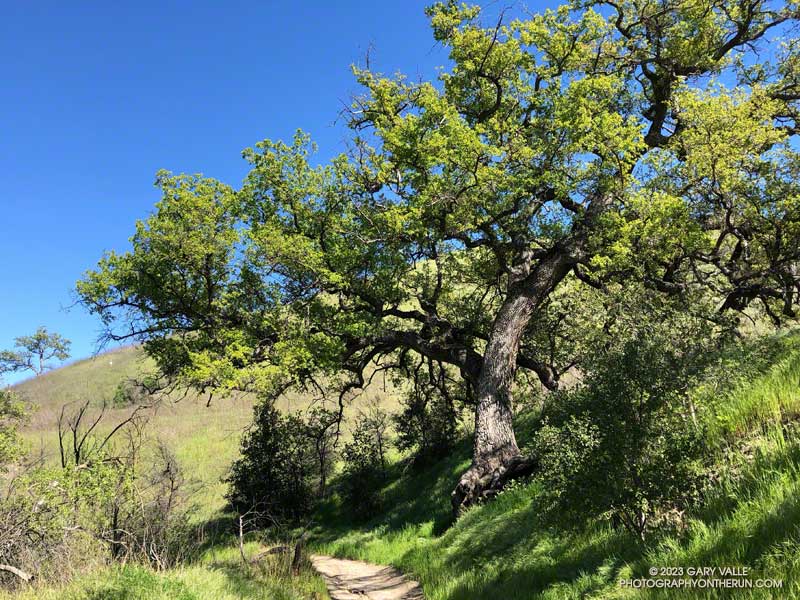 According to preliminary NWS reports, Downtown Los Angeles (USC) recorded average monthly temperatures well below normal in November 2022 and January thru March 2023. March was particularly cool, with an average high of about 64 degrees and an average low of about 50 degrees.
Besides high heating bills, Southern California's unusually cold Winter affected several seasonal processes, one of which was when the valley oaks at Ahmanson budded and grew new leaves.
The leaves of valley oaks at Ahmanson Ranch typically turn in mid-December, and the trees usually begin to leaf out during the latter half of February. Depending on the tree's microclimate, the emergence of new leaves may vary by a week or more.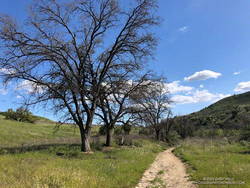 The earliest I've photographed a valley oak at Ahmanson sprouting new leaves was February 3, 2015. Last year, a valley oak had new leaves on February 10, 2022.
The latest I've seen valley oaks sprouting new leaves is this year — from about March 20, 2023, in favored locations to April 4, 2023, in cooler areas such as Las Virgenes Canyon.
Prior to this year, the latest I've photographed a valley oak at Ahmanson with new leaves was March 9, 2009.
(Officially named Upper Las Virgenes Canyon Open Space Preserve, most users refer to the open space area as Ahmanson Ranch or simply Ahmanson.)
Some related posts: Revitalized Valley Oak at Ahmanson Ranch, Goldfields Are Blooming and Valley Oaks Greening, Valley Oak Leaf