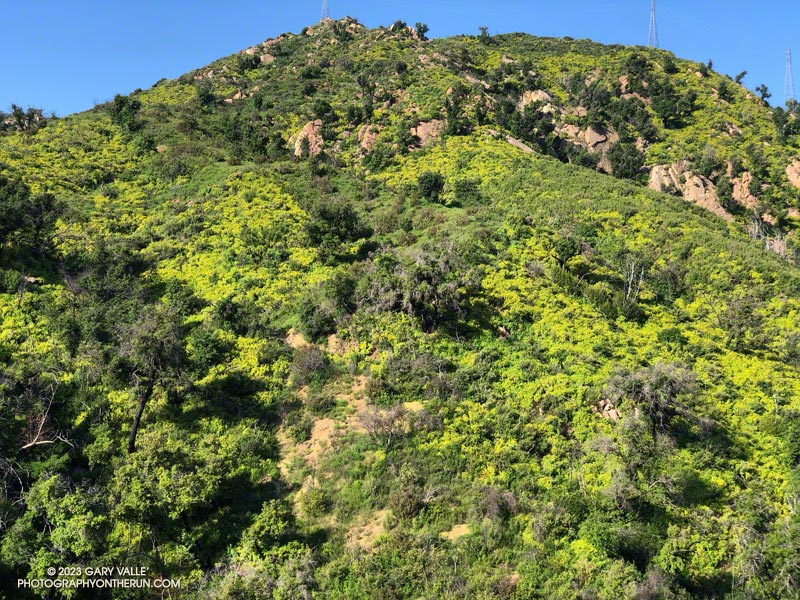 Update May 5, 2023. Did a run this afternoon in Malibu Creek State Park and the seasonal bridge across Malibu Creek on the Crags Road Trail is back in place!
As I approached the M*A*S*H site, I could see some people taking photos. I stopped to say hi, and without skipping a beat, one of them asked, "Did you wade across the creek?"
He was asking about the creek crossing where Crags Road crosses Malibu Creek upstream of Century Lake and east of the M*A*S*H site.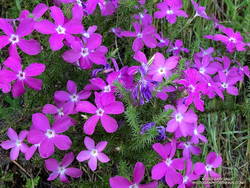 There's a substantial log spanning the creek at the moment, and I wanted to answer that I danced across it with my eyes closed. But instead, I explained that I decided to wade — and for sure keep my phone dry — rather than take a chance of falling uncontrolled into three feet of water, ker-splash.
Speaking of which, this morning, I talked to a mountain biker who saw the bridge pulled off to the side of the creek before any flooding had occurred and thought it may have been hauled away. Good news! According to the Malibu Creek Docents, the bridge is seasonal and was designed to be portable. It was removed and stored before this Winter's rain. It is expected to be reinstalled when the threat of flooding is over — which should be soon.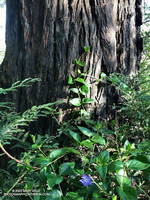 After crossing Malibu Creek and before continuing to the M*A*S*H site, I took a quick detour on the Forest Trail. Bordered by Century Lake on one side, and steep, rocky slopes on the other, the Forest Trail has a character all its own. It's a wonderful place to observe, reflect, and enjoy nature. It's also home to several coast redwoods. Unfortunately, less than half the trees originally growing along the trail survived the 2011-2015 drought. This morning, a redwood that died several years ago had fallen and was partially blocking the trail near its halfway point.
As has been the case in most of Southern California this Spring, the wildflowers on this run were spectacular. Canyon sunflower was particularly prevalent, with many thousands of the bright-yellow blossoms covering the hillsides burned in the 2018 Woolsey Fire.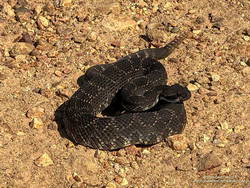 Also exciting was my first rattlesnake encounter of 2023. I was running down Castro Peak Mtwy Fire Road from the Bulldog "T" when I saw something in the road that looked like a partially exposed root. As I neared, I could see it was a very dark — almost black — Southern Pacific Rattlesnake.
The snake was stretched out straight on the road, basking in the sun. As I approached, it did move, and it did not rattle. Usually, snakes in this state are pretty docile, and I can cautiously walk a few feet behind them. Yikes! This one was super-aggressive. In the blink of an eye, it turned and moved toward me, doubling back on itself. I jumped a mile! It coiled but still did not rattle! It must have recently emerged from its Winter hideaway.
Here are a few photos (primarily wildflowers) taken on the Bulldog Loop.
Some related posts: More Malibu Creek Flooding; Bulldog Training Run; After the Woolsey Fire: Malibu Creek State Park Redwoods, M*A*S*H Site and Bulldog Climb
Also check out the M*A*S*H site web page.