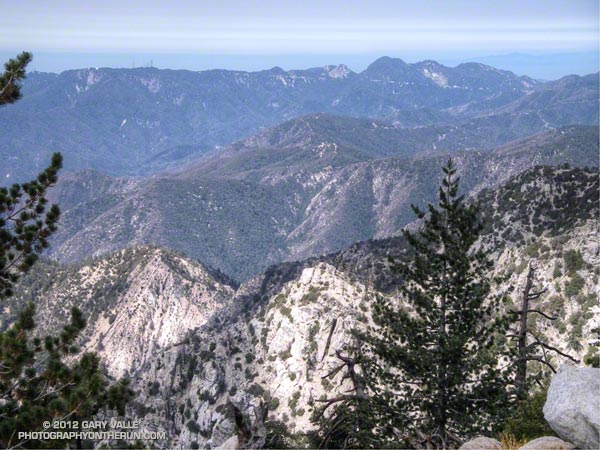 Good news! Beginning Monday, May 16, 2011, you'll have the option to take in the view above — from Twin Peaks to Mt. Wilson — and to enjoy the trails and peaks in most of the area pictured.
In an action that many felt was overdue, Angeles National Forest is reopening about half of the area currently closed as a result of the 2009 Station Fire. This reduces the closure area from 186,318 acres to 88,411 acres, and opens most of the Forest south/east of Angeles Crest Highway (Hwy 2) from Bear Canyon on the west to Twin Peaks on the east.
Some of the trails and peaks in the area to be reopened are the Sunset Ridge Trail, Bear Canyon Trail, segments of the Gabrielino Trail, Nature's Canteen Trail, San Gabriel Peak and Mt. Disappointment, Valley Forge Trail, Kenyon DeVore Trail, Silver Moccasin Trail, Pacific Crest Trail (some rerouting), Twin Peaks and the Mt. Waterman-Twin Peaks Trail from Three Points.
Some trails in the reopened area may be closed. According to the Forest Service, trails in the open area that are closed are:
– Dawn Mine
– Tom Sloan
– Vetter Mtn. Trail (access is via the road)
– Silver Moccasin in Charlton (users are directed on to the middle road to get to the portion that goes to Chilao.)
Just because a trail is open does not mean it is in good shape or risk-free. Natural hazards are present on virtually any trail, but may be more common in an area recently subjected to fire and flood.
For official information see the news release, detailed map, and other information related to Closure Order No. 01-11-03 on the Angeles National Forest web site.