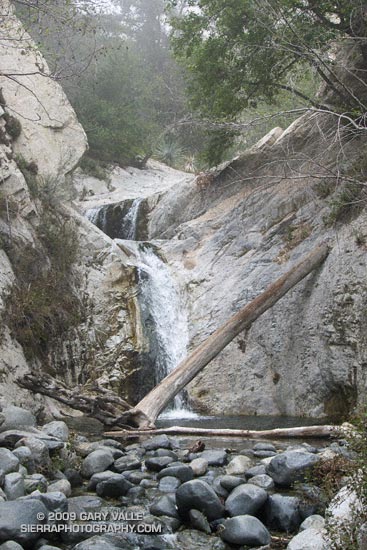 Tiered Falls Downstream of Switzer Falls
I have a passion for the outdoors, exploration, and adventure. I'm always looking for a reason to be outside, and this has inevitably led me to activities such as climbing, kayaking, skiing, hang gliding and running. The common thread in these pursuits isn't necessarily the challenge, or the adrenalin, or attaining a particular goal, but is the pure joy of being in the mountain environment and relishing what it has to offer.
To feel the sun and imagine the clouds. To listen to the wind on the pines, and the song of a stream. To savor the taste of a wild herb, or the sweet smell of a wildflower. To revel in the purity of untouched snow, or the green of a mountain meadow. To run from a thunderstorm, or feel the relief of a good handhold. Climbing to airy summits. Hiking to heart-pounding passes. Descending "impassable" canyons. Experiencing cold bivouacs and star filled nights. Simply to be there.
The photograph of the tiered falls is from today's hike to the plunge pool at the bottom of Switzer Falls in the San Gabriel Mountains, near Los Angeles. Gary Gunder and I kayaked the double falls when we paddled Arroyo Seco creek from Switzer Picnic Area to the JPL in Pasadena in 1998.
Related link: Kayaking Arroyo Seco from Switzer Falls to Bear Creek