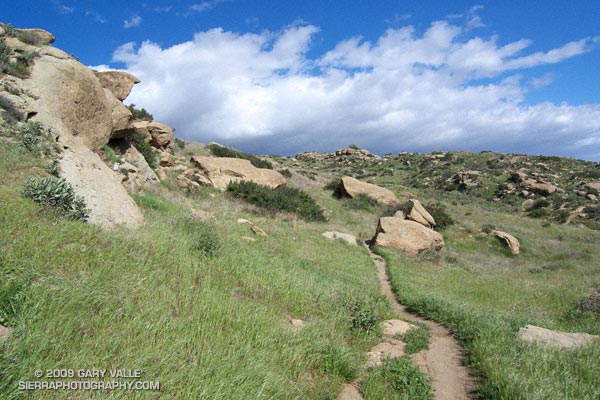 Hummingbird Trail
 The Lower Stagecoach – Hummingbird loop is a shorter, somewhat less strenuous alternative to the Chumash – Hummingbird and Chumash – Las Llajas loops. Approximately 6 miles long, about a mile of the route is on pavement, with the remainder on single track trail and fire road. The elevation gain/loss on the loop is about 1300 ft.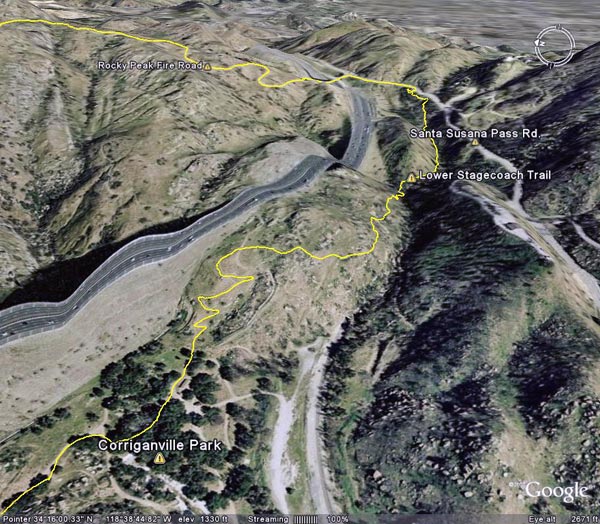 I usually start the loop at Santa Susana Pass and pick up the Lower Stagecoach Trail a short distance west of the pass down Santa Susana Pass Rd. The route climbs out of the canyon before descending to Corriganville Park. It does not follow the old road bed (with a lot of poison oak) down the canyon, or cross the Metro Link railroad tracks.
As discussed in the post Chumash – Hummingbird Loop, the area on Kuehner Dr. near the start of the Hummingbird Trail is being developed, but it appears that development has been suspended. The Hummingbird trailhead is located at the end of Kuehner Dr., near the entrance to Hummingbird Ranch. Trail signs have been placed indicating the route of the trail over park district property. Here's a Google Earth image and Google Earth KMZ file of a GPS trace of the loop.
Some related posts: Chumash – Hummingbird Loop, Chumash – Las Llajas Loop, Old Santa Susana Stage Road